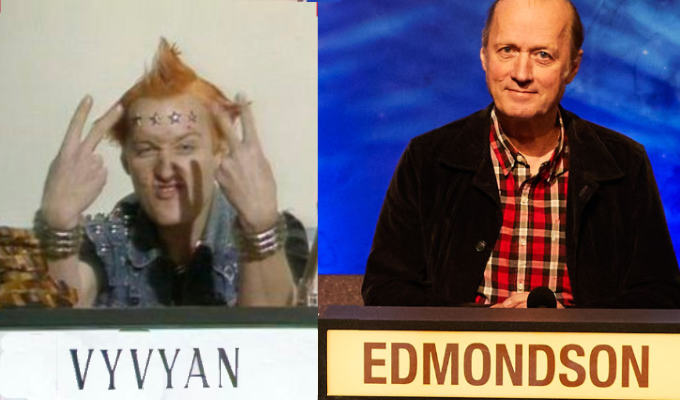 Scumbag no more!
What a difference 36 years makes!
In 1984 Adrian Edmondson appeared on a fictional version of University Challenge as Vyvyan, representing Scumbag College alongside his housemates Rick, Neil and Mike in a memorable episode of The Young Ones.
And next week he appears as himself in the real version, representing Manchester University in one of the celebrity Christmas specials.
'And lo, it came to pass, that on 22nd Dec on BBC2, television did eat itself,' the actor tweeted alongside a picture of his teammates.
He will presumably be better behaved than in the 1980s sitcom, when he kicked a hole in the floor to assault Kendal Mintcake, as played by Ben Elton, and dropped a grenade on to the rest of the Footlights College team.
Edmondson appears alongside fellow comic Justin Edwards, war surgeon David Nott. and Juliet Jacques, Their opponents on the Queen's Belfast team are computer scientist Kate Devlin, writer of a book on sex and robots, architect Alan Jones, professor Alan Finlayson and poet Miriam Gamble.
Her namesake Ed Gamble is also taking part in a future episode, representing Durham.
Edmondson's episode airs on BBC Two at 7.30pm next Tuesday.
Published: 16 Dec 2020
What do you think?