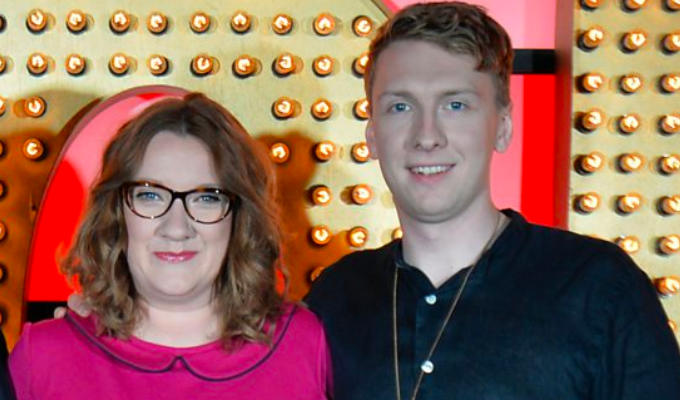 Joe Lycett: Sarah Millican once gave me a car
Joe Lycett has revealed that Sarah Millican once gave him a car.
But what she didn't tell him was that she once peed on the passenger seat.
Lycett revealed that her generous gift of a Nissan Micra, which came early in his stand-up career, is the one present he was most grateful for.
Speaking on Angela Scanlon's Thanks A Million podcast, he said: 'So Sarah Millican gave me a car. Basically, I was deciding between staying in Manchester where I was living, paying rent or going home to Birmingham and learning to drive. And I decided on that one.
'Sarah knew that was I was doing. She had this car and was like, "Do you want to have this car" and I was like, "Yeah".
'But not only did she give me the car, she got it serviced, cleaned. It was beautifully pristine. And it was a real lifesaver.
'She then told a story on Would I Lie To You? about a year later that she'd pissed in the passenger sear, which she hadn't told me when she gave it to me.'
It's not the only celebrity gift he's received, telling Scanlon that Noel Fielding had given him a chair with a picture of David Bowie on it – 'that I love' and that Paul Chuckle gave him a portrait.
Lycett has now put the Micra behind him, having bought aLexus, but admitted: 'Alan Partridge drives a Lexus. I feel like a dickhead. I feel ugly about that. Because I could have spent that money on art stuff…/ Lycett also revealed he has a black eye, thanks to an unlikely gym injury.
He said: 'I went to the gym, having not been to the gym for many months. I realised I hadn't eaten for 18 hours.
'I had like a burger and chips and loads of food, so I felt really awful. went to bed, woke up, pottered about a bit, and then went to the gym about midday and then did about 20 minutes of weights and then had a little lie down. Basically blacked out and smacked my head on the ground.'
Lycett also spoke about how he was thankful of the 'breathing space' lockdown has given him.
He said: 'Before lockdown I realised I hadn't really had that for years, a block of time where I thought "what do I want to do today?" The last time was probably at school, to kind of mess about with ideas, try things, see where it gets me.
'I'm going to make a real effort to put that into the diary to invest in creative stuff without constantly going to meetings. It's been a real revelation. And it's something I am very grateful for. [It's] a horrible thing in my industry has been almost obliterated by the plague. Beyond all that, I'm thankful for the opportunity it's given me to find new ideas."'
'One of my best friends died at the start of lockdown. And I wonder whether that has been part of the jolt of "Oh fuck that could happen."
'I think there is a real sense at the minute of not going, "Oh it would be nice to try that" No, fucking go for it. And it probably will be a bit shit but so what? You tried it and have something to show for it.'
Published: 1 Dec 2020
Recent Punching Up
What do you think?