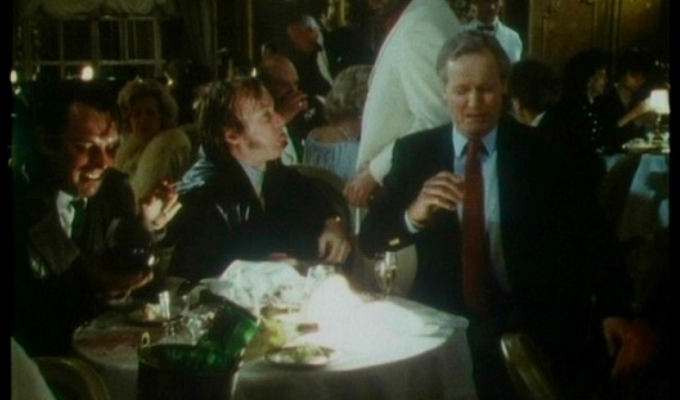 How the Comic Strip changed Nicholas Parsons
Nicholas Parsons became a changed man after he took part in the anarchic Comic Strip film Mr Jolly Lives Next Door his co-star Adrian Edmondson said.
The Young Ones star believes the veteran Just A Minute host learned to be the butt of jokes after appearing alongside a new generation of comic stars in the 1987 film.
In the show, Edmondson and Rik Mayall are the owners of an escort agency who live next door to a psychopathic contract killer played by Peter Cook. Parsons plays a version of himself, who is the target of a hit.
Speaking on a new Radio 4 tribute to Parsons to air tomorrow night, Edmondson recalls: 'I think when he did Mr Jolly there was a kind of change in his personality.
'I think he had a really good time doing it and I think a lot of people came up to him and treated him in a different way
'On Just A Minute, previously he tried to play the urbane wit, and after that he played the idiot.
'That's something I perceive... and it's possibly big-headed of me. But I do think he was funnier after that.
'I've always loved Just A Minute but previous to Mr Jolly I think the contestants were the meat of it, whereas post-Jolly Nicholas Parsons has been the funniest thing on it, which is saying something when Paul Merton's a regular.'
Merton conceded: 'He was happy to join in the jokes... he saw the fun in it.'
Speaking in an interview about his longevity in the fickle world of showbusiness, from straight man to quiz show MC, to chat show host, Parsons 'I don't reinvent myself, I enjoy a challenge so I think of something different to do. If something's dried dup you find somewhere else to go.
Nicholas Parsons: A Man of Many Parts is on Radio 4 at 7pm tomorrow, at the start of an evening of programmes dedicated to his career.
Published: 9 Oct 2020
What do you think?