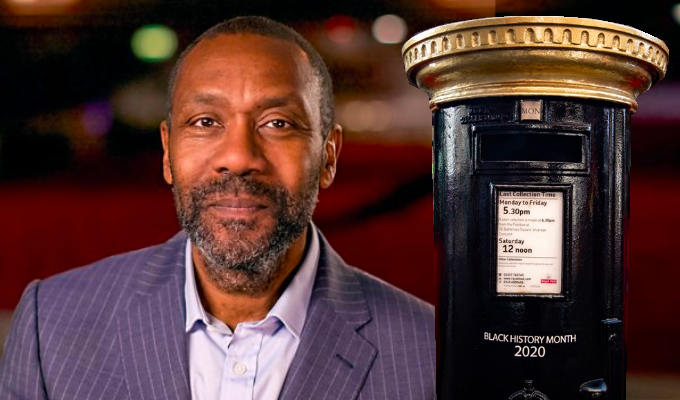 Lenny Henry honoured - on a Belfast letterbox
The Royal Mail is celebrating centuries of black history - by painting a postbox black in honour of Lenny Henry.
A letter box in Belfast has been dedicated to the comedian and Comic Relief co-founder, who has latterly become a campaigner for better representation across the arts.
Dudley-born Henry does not appear to have any links to Belfast, although he has gigged there.
The Royal Mail has turned several postboxes black in honour of prominent figures to mark Black History Month,
Footballer Walter Tull, who become the first black player for Rangers, appears on the Glasgow postbox; London-born artist Yinka Shonibare is celebrated in Brixton and Mary Seacole, who nursed wounded British soldiers back to health during the Crimean War, appears on the Cardiff postbox, although again the link with the Welsh capital is unclear.
Each box contains a QR code that can be scanned by mobile phones to bring up this page detailing the stamps the Royal Mail has issued commemorating prominent black figures.
Peter De Norville, Royal Mail's head of diversity and inclusion, said: 'Black History Month is a great opportunity to celebrate the contributions that black people have made to this country over many generations. We are also using it as an opportunity to celebrate the vital work that our black employees do throughout the nation, from the mail bag to the meeting room.'
Published: 30 Sep 2020
Recent Punching Up
What do you think?