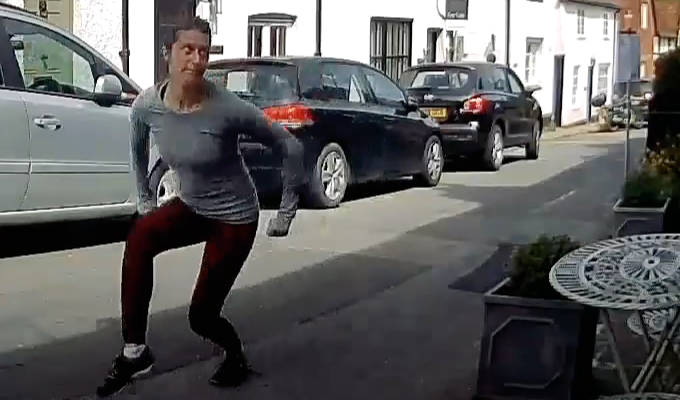 Ministry Of Silly Walks takes over a Berkshire village
Maybe not everybody is obeying lockdown guidelines… but residents of one Residents of a Berkshire village are adhering to strict rules laid down by the Ministry of Silly Walks.
Anyone walking down the High Street of Sonning passes a sign telling them that they are entering the jurisdiction of the government department, and must act accordingly.
The results have been captured on a motion-controlled webcam and uploaded online.
'I'm extremely pleased with the level of commitment being given,' posted Monty Python fan James Ruffell, 37, who set up the camera.
He told the Reading Chronicle that around ten people perform a silly walk past his house each day, with the oldest participant being 75 and the youngest just three months old.
Theresa May lives nearby but has yet to be snapped taking part.
It seems Ruffell may have also been inspired by a Michigan woman who posted a similar sign outside her house, prompting John Cleese to tweet earlier this month: 'This made me so happy to see.'
Bravo #yorkshiresillywalks This made me so happy to see. pic.twitter.com/ul1z0vkTdN

— John Cleese (@JohnCleese) May 2, 2020
Here is the footage Ruffell has posted
And here's a BBC News report into the phenomenon:
Published: 28 May 2020
What do you think?