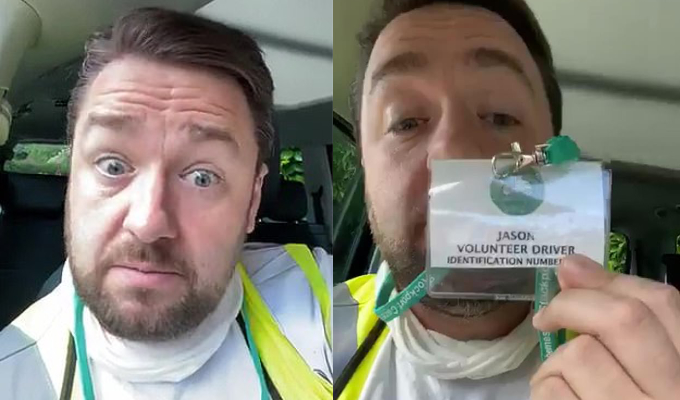 'No one needs stand-ups in an emergency'
Jason Manford has revealed that he's taken up a new job taking elderly people to medical appointments, after being turned down by Tesco.
Fans first thought the comedian was joking when he said he couldn't get hired by supermarket giant. But he posted his rejection letter and said he was
'only trying to do his bit' in the fight against coronavirus.
However, he has now found employment shuttling pensioners around Stockport, as he revealed in a video posted on social media.
As he waited to take one ride, called Dorothy, back from her podiatrist's appointment, he joked: 'Am I a friend of Dorothy? No, but I am now. We've had a good old chat, me and Dorothy on the way to the podiatrist.
'She's lovely. She's a bit deaf so we've just been shouting at each other. It's all right.'
Of his new volunteer job, he said: 'What else am I going to do? No one needs stand-ups in an emergency.'
He previously told how he failed to get a job as a Tesco delivery driver after missing the deadline for applications.
Manford, 38, wrote: 'A few people thought I was taking the piss, being insensitive or making it up about my previous message about being turned down for a job as a Tesco driver.
'I applied seven weeks ago when I thought, like everyone, it was basically wartime and it would require all hands on deck. I applied for quite a few jobs.'
Iceland and Lidl subsequently offered him jobs.
Published: 7 May 2020
Recent Punching Up
What do you think?