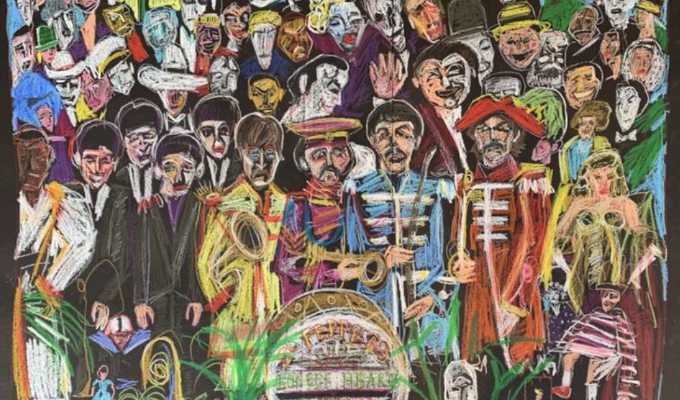 'He speaks through his tits and has shoes made from melted bubblegum'
Noel Fielding is put some of his artwork up for sale through an online endeavour art gallery.
The comedian is this month's guest artist on Saatchi Art's The Other Art Fair, with 18 of his works on sale at £912 each.
All are in crayon and almost half have been sold already, including his version of Sir Peter Blake's iconic cover of the Beatles' Sgt Pepper album, and 'self-portrait', a simple picture of a star-studded boot, right.
The gallery says: 'Noel Fielding's artworks bridge seamlessly the imagined worlds and counterculture references we have been led through, courtesy of Mighty Boosh and Luxury Comedy.
'Drawing on surrealism, dada and neo-expressionism, Noel's body of work treats us to a feast of colour and a trip through the triangle window into his soul.'
Fielding himself said: 'The characters I paint are often fantastical, usually half human half animal, strange magical beasts who roam my subconscious. It's the same in my comedy – I'd rather play Old Gregg, a transexual Merman, than someone who exists in real life.
'Acid Mouse (left) is one of the characters I've painted a lot in the past year. He is a strange 7ft upright mouse with no arms, and breasts – he speaks through his tits and has shoes made from melted bubblegum and broken pieces of the American dream.'
In November, Fielding revealed he was working on a Netflix series about a magic record player which opens a portal to inside albums playing on it.
'I haven't written it yet. I pitched it and Netflix liked it and we're making it, but I haven't started writing it yet. So that's my next thing,' he told Lauren Lavern on her 6 Music show.
Saatchi Art is an online gallery based in the US, unconnected to London's Saatchi gallery.
Take a look at Fielding's gallery here.
Published: 14 Apr 2020
What do you think?