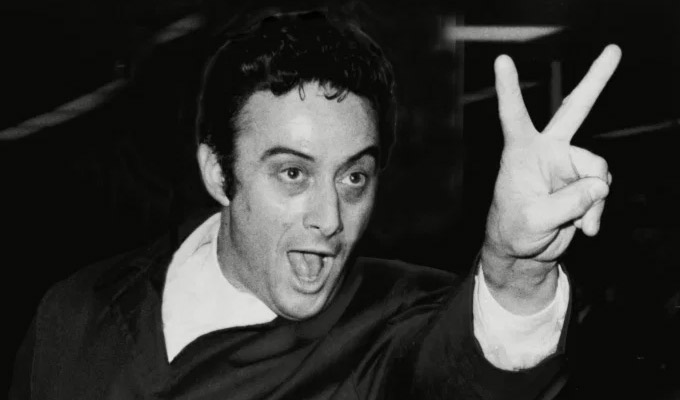 Available for children's parties...
He was the oft-arrested bad boy of comedy, a drug addict who frequented dubious dives, had a tumultuous relationship with a stripper and was regularly accused of vulgarity as he spoke frankly of politics, religion and sex.
And it turns out Lenny Bruce was a pretty good babysitter too…
A new book reveals that the comic looked after the 10-year-old son of legendary jazz bandleader Dave Brubeck – and proved himself a 'completely responsible' guardian.
Bruce and Brubeck met in July 1957 at the Crescendo, a jazz club on Sunset Boulevard in Los Angeles, which had a comedy club above, the Interlude.
Patrons could hear sets by Duke Ellington, Ella Fitzgerald, George Shearing or Chico Hamilton, then head upstairs to catch emerging acts like Woody Allen, Bob Newhart, Mort Sahl, Bill Cosby and Tom Lehrer.
While the Brubeck Quartet were recording their album, Dave Digs Disney, and playing the Crescendo at night, Bruce – whose freeform stand-up has been likened to jazz – began a series of residences at the Interlude.
He enjoyed the freedom and narcotic hedonism that the scene offered, while Brubeck, best known for the biggest selling jazz hit of all time, Take Five, was famously tee-total.
Yet the pair hit it off.
In a new book, music journalist Philip Clark recalls the bandleader speaking about their friendship.
'Lenny Bruce used to babysit Darius!' the late musician told him. 'Lenny and I used to be on the same bill at a club in Hollywood and we became good friends. I didn't expect Lenny and Darius to get close, but they kind of gravitated towards each other and we thought, well, okay, it's fine with us if someone wants to take the kids off our hands for the afternoon.
'And Lenny took it very seriously and was completely responsible, I have to say.'
• Dave Brubeck: A Life In Time by Philip Clark is published by Headline and out now in hardback.
Published: 19 Feb 2020