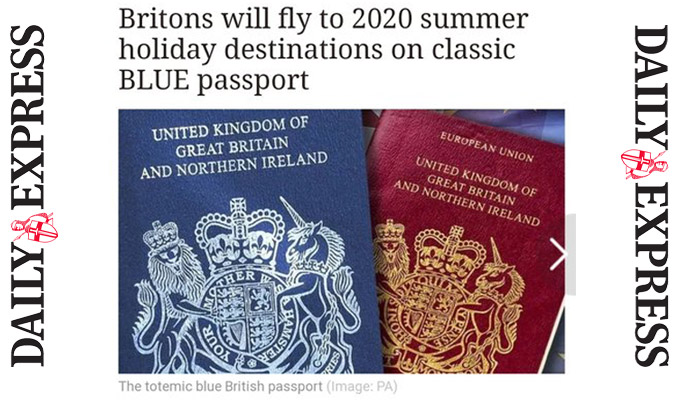 Red faces over blue passport
The Daily Express has long lobbied to bring back blue passports as some tangible benefit of Brexit.
But it appears the newspaper doesn't quite recognise the 'iconic' document when it sees it – as it yesterday unwittingly published a Monty Python-inspired parody.
On a story about the passports being ready for summer holidays this year, the Express printed a version that carried the message 'your mother was a hamster'.
The line from Monty Python and the Holy Grail was written into the coat of arms on the cover.
Keen-eyed Twitter user Michael Szydlo spotted the mistake, adding that it originated from social media memes of a couple of years ago.
OMFG I'm pissing myself laughing
LOOK WHAT PHOTO OF THE 'BLUE PASSPORT' THEY USED 🤣 pic.twitter.com/s6Ol6Fekg3

— Michael Szydlo (@MichaelSzydlo) 23 January 2020
<script async src="https://platform.twitter.com/widgets.js" charset="utf-8"></script>
In the original spoof 'your father smelt of elderberries' – the rest of the insult the French knights hurled at the British – was included beneath the crest.
Generously, some people suggested that the Express could have used the image in tribute to Terry Jones.
But the newspaper changed the image online soon after their error was pointed out.
Published: 24 Jan 2020
What do you think?