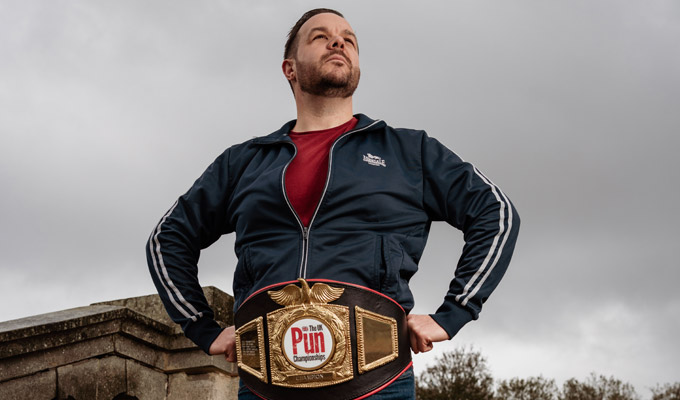 Pun award will go to waist!
Next year's best pun-slinging comedian is to receive a championship belt – thanks to the winner of this year's title.
Reigning UK Pun Champion Colin Leggo has donated the trophy, which features the names of all the previous winners – Darren Walsh, Leo Kearse, Masai Graham, Lovdev Barpaga and Rob Thomas – with space for future champs.
The competition takes place as part of Leicester Comedy Festival, whose founder Geoff Rowe, said: 'Presenting the belt to the winner each year can only add to the silliness of the UK Pun Championships and we hope each winner will display the belt somewhere alongside their swimming and school exam certificates.'
Leggo explained: 'I really enjoyed taking part in the competition and to win it in 2019 was a genuine highlight of my career. I really want to support the team at Leicester Comedy Festival as they continue to celebrate British puns so it seemed a natural, if little silly, idea to get a belt made.
'A champion punster not wearing a belt around their middle would just be a waist!'
The UK Pun Championships 2020 will take place at De Montfort Hall, Leicester on Monday February 10.
Published: 3 Dec 2019
What do you think?