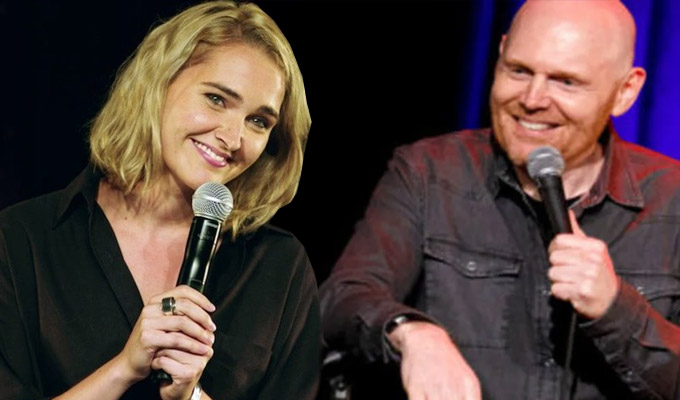 'He's stoking misogynistic trolls'
US stand-ups Bill Burr and Jena Friedman have clashed on the relationship between 'angry, famous male comics' and their support acts.
Earlier this month, Friedman tweeted: 'Hey headlining comics, if you take a younger comic on the road with you, don't try to fuck them... comedy clubs are work environments, extend an employment opportunity to that younger comic but don't be creepy about it. Also, if you are, they will probably tell us. We all talk.'
Burr reacted to the comment on his podcast, saying: 'Some fucking female comic says "hey headliners ...", gave us all a stern talking to, "whether you're innocent or not" … why don't you go talk about your twat for another hour on stage? You fucking hack. Jesus fucking Christ! My God.'
Offering his impression of Friedman's act, he went on, '"then I stuck my other finger in it … for an hour!'", before imagining the outraged reception he'd receive. '"Don't say she's a dirty comic! Her body, her jokes!" Oh my God!'
Friedman then reacted Burr on Twitter, posting: '.@billburr, you mentioned my below tweet on your podcast, what about it upset you? Happy to discuss...'
She added: 'In comedy, there's no HR department, so people who care about equitable work environments have to put pressure on people in power to care too... @billburr, if you disagree, feel free to tell me to my face.
'Angry, famous male comics: I understand that when you are in a position of power, equality may feel like oppression. But take comfort in knowing that in a year, you are probably making more money than most of us "SJW" [social justice warrior] comics will ever make in our lifetimes.'
Katherine Ryan was among those who picked up on Burr's dismissive remark, saying: '"A female comic talking about her twat for an hour" uggghhhhh we just don't need it. Unsportsmanlike at best. And we are meant to be on the same team. xx
Kristen Schaal also weighed in, telling Friedman, who appeared at this year's Edinburgh Fringe, 'your comedy is fantastic'.
When Burr didn't respond to Freidman's entreaties to discuss online, she remarked that it was 'fucked up' that such a 'powerful person' in the comedy industry had reacted in that way, calling him a 'coward' who was 'stoking misogynistic trolls and abusive men' and that he had been 'triggered' by her original tweet.
She added that there was a 'stigma' attached to female comics supporting male comics when touring the US.
Clarifying, she wrote: 'In my 13 years as a comic, I've never toured with a headlining male comic. I've had wonderful male comics mentor me or invite me to open for them, but never on the road. It's not their fault either, there's long been a stigma associated with it. This is a separate conversation...
'I'm not calling out predatory headliners because I'm whiny, I'm doing it because I can. So much of my success can be attributed to women who came before me who weren't afraid to call stuff out and who got men to actually listen because of that and I want to pay it forward.
'Genuinely curious why so many male comics making $100k+ an hour to tell jokes are so mad at the rest of us...
'The hateful bullshit men like @billburr spew on their podcasts matters. He's stoking misogynistic trolls and abusive men who already harass us to keep doing it. He may have no idea how his words can actually harm women more vulnerable than me, but they really do. What a coward.
'Maybe you were conflating 10 female comics @billburr, and it wasn't just my tweet that pissed you off, but we aren't the problem and if you think we are, why not talk to us instead of stoking your incel fans? And male comics watching and saying nothing, this is on you too.
'My peers are headlining comics and my peers are who I was considering when I tweeted that. I wasn't even thinking about him.
'Final words on this: I'm not trying to police anyone's consensual behavior, but in a work context, maybe we should let the person who isn't in power dictate the terms of the dynamic? Ideally, there should never be an expectation for sex in a work environment that isn't sex work.'
Published: 27 Nov 2019
Recent Punching Up
What do you think?