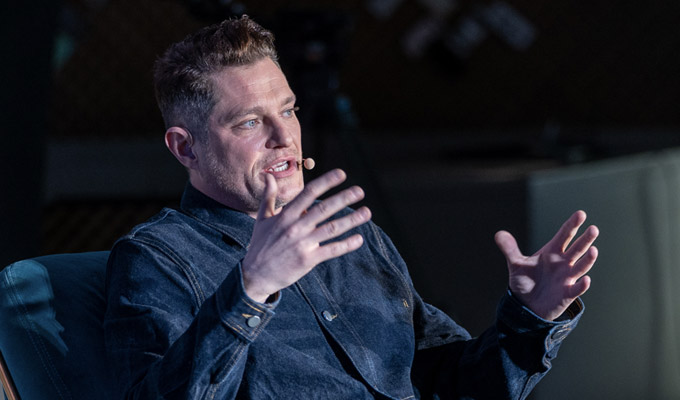 Don't tweet when Gavin & Stacey's on!
Mathew Horne has urged people not to use Twitter – at an event promoting the social media platform.
But the actor and writer was not against tweeting altogether, only when the Gavin & Stacey Christmas special.
'I really hope people don't live tweet during it,' he told an audience in London last night.
'If there were ad breaks, that would be fine but you know, it's an hour of a show which people really really like. I can hand on heart say it think it's really great and I hope that people just put their phones down for one minute – or 59 minutes! – and just watch it.'
As to whether he would read people's reaction to the show, he added: 'Maybe I will read the replies... or maybe I won't, who knows?'
His comments came at a 'Thread Talks' event, run by Samsung KX with Twitter, in which celebrities discuss their favourite tweeters.
Horne also revealed that the comeback came as an utter surprise to him, when Ruth Jones called to say it was occurring.
'I'd known she'd flown out to LA to see him erm but I thought she was just visiting for holiday (because she loves a holiday). Turns out they'd written a script and then we all got together to read it for a big read-through in July, late June or July.
'It was extraordinary – really quite emotional actually. Particularly seeing Alison [Steadman] again who plays Pamela because she's sort of like a mum to me, you know? Yeah it was really emotional.'
He was also quizzed on who is funnier, Rob Brydon or James Corden, and said: 'Well, I mean it's a battle between themselves. They basically just talk over each other being funny. It's whether you can zone in and out of one of them… but they're both funny in their own right.
The Gavin & Stacey Christmas special airs on BBC One on Christmas Day.
Published: 26 Nov 2019
Recent Punching Up
What do you think?