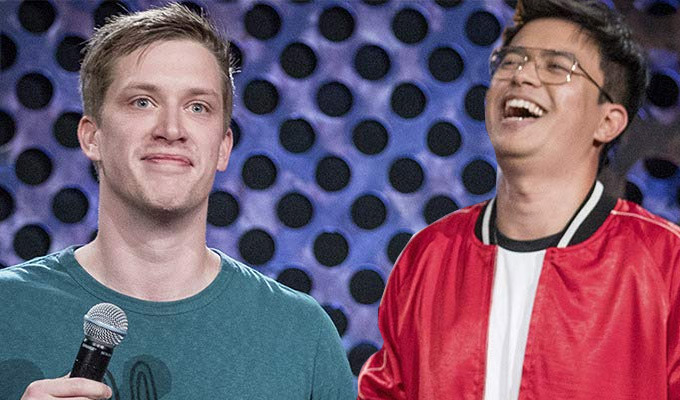 Unfair fight! Comedy Central censored Phil Wang's Roast Battle jokes
Comedy Central's Roast Battle is billed as being a brutal, no-holds-barred contest, in which comedians can say absolutely anything about their opponent, no matter how depraved or potentially offensive.
But Daniel Sloss has admitted that he owes his status as the UK version's only undefeated comic to the broadcaster 'censoring' Phil Wang when the pair battled on series two last year.
'I will absolutely admit this on air, the only reason Phil Wang did not beat me on Roast Battle UK was because they stopped him from doing a bunch of jokes,' Sloss told Ian Boldsworth on his Fubar radio show.
The channel objected to insults that Wang had written about Sloss's sister, who died of cerebral palsy when the comedian was eight years old. Sloss talked about the issue in his 2015 stand-up show Dark, which was released as a Netflix special last year.
Wang wrote 'a bunch of really, really funny jokes about my dead sister. And the censors said "no", the lawyers said "no"' Sloss recalled.
'I said to them, "it's my sister, it's up to me if he does the jokes. Let him do the fucking jokes, it's a roast battle".
'At the start of the show, Jimmy Carr says "nothing is off limits". And Jimmy was like, "we've got to have these on the show."
'My mum wrote a letter to Comedy Central lawyers, "It's my daughter, this is how we've always dealt with this stuff, by making jokes. Phil has my permission to use these jokes. Please use these jokes." And they were still like, "no, we're not doing it."'
Arguing with the decision, Sloss added: 'That's what a roast is, you can't take anything personally … people say horrific things…
'If people start getting offended by it, they're not playing the game, they've misread it and they don't get to enjoy it any more.'
Here's what did make it to air:
Published: 3 Oct 2019
Recent Punching Up
What do you think?