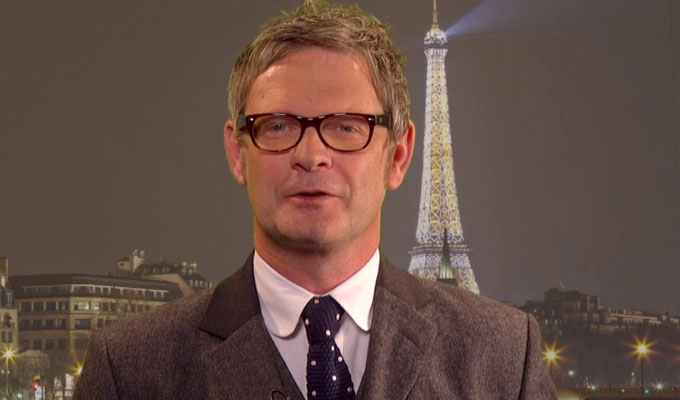 Ian Moore sera une star de télé-réalité!
Comedian Ian Moore is set to become a reality TV star – in France.
Moore performs on the UK stand-up circuit, but lives and runs a chambres d'hôtes, or bed and breakfast, in the Loire Valley.
Now the comic and his family are being filmed for Bienvenue Chez Nous, a French remake of Channel 4's Four in a Bed, in which competing B&B owners stay at each other's establishment and pass judgement.
The show is 'exactly the kind of television programme I avoid' Moore confessed on website Complete France. 'It's fabricated "reality", pitting wannabe TV stars against each other, designed to create what TV producers call "jeopardy", while people sit agog at home asking reasonable questions like, "Where do they get these people?"'
He recounted his previous, less than successful experience with the genre.
'When we first moved to France a TV company followed me and the family around for a bit, with the idea of making a series about our life.
'The producer saw the early "rushes" and called me in. "You all get on very well as a family," he said. "That's no good for TV." When he asked if I couldn't create some kind of domestic conflict for the purposes of the show, I said no. Thanked him, and was relieved about dodging an invasive bullet.
'I don't know if that TV producer subsequently moved to France and started Bienvenue Chez Nous, but it's jeopardy-a-go-go. There is no shortage of conflict here. This is, more often than not, grotesque, slammed in front of a camera for the sole purpose of starting a row.
'There are three couples and at least one of them will harbour a personal grudge against one of the other couples, or have one member of the couple who is clearly certifiably insane and doing their best to get sent back to the padded cell by provoking in the meanest way possible the ire of a competitor.'
Watching the show with his wife as research before opening their own B&B, La Pause, proved unwise. 'Well, initially the only nugget we took was that maybe we should abandon the project all together and erect a Trump-wall to stop humanity coming near anywhere us' he recalled.
However, Bienvenue Chez Nous airs on TF1, reputed to be the most watched channel in Europe so admitted: 'It's really good for business'
The Moores will appear in the eighth series of Bienvenue Chez Nous, which commands around two million viewers an episode.
But he's not the first comic familiar to UK audiences to have starred on reality television across the channel.
In 2014, French-born Eric Lampaert massively raised his profile in his homeland by appearing in Mon Incroyable Fiancé, an adaptation of the US series My Big Fat Obnoxious Fiance. Also airing on TF1, it attracted nearly three million viewers.
Ostensibly, it was a reality show, in which Clara and the unlikely 'Patrick', played as a buffoon by Lampaert, had to fool their families into thinking they were getting married in order to win €100,000. However, Fiancé was actually a hidden camera show at Clara's expense.
Lampaert landed a succession of big French-language gigs off the back of the fame the show brought him.
Published: 28 Jun 2019
What do you think?