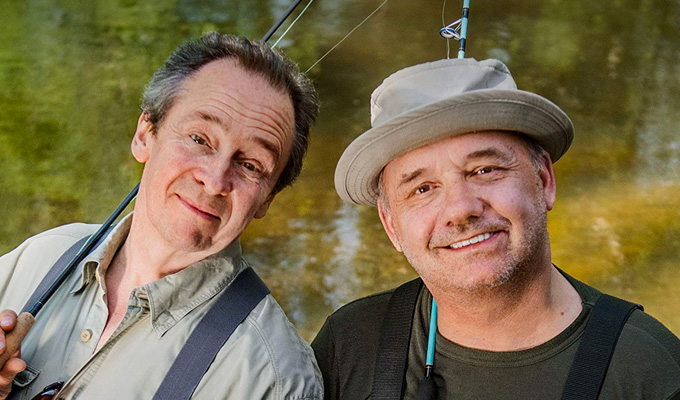 When Bob Mortimer and Paul Whitehouse stayed in a 'sex pub'
Bob Mortimer and Paul Whitehouse accidentally stayed in a 'sex pub' while filming their BBC Two fishing show.
In a new spin-off book, the pair reveal they booked the unusual accommodation on the advice of 76-year-old angler and TV presenter John Bailey, when they were filming an episode about catching pike in Norfolk.
Whitehouse said it looked lovely, but 'a little alarm bell went off' when there was a sauna in one of their rooms.
Mortimer added: 'I had a walk around and at the end of the corridor was a big door with one of those yellow plastic signs outside, like they put out when the floor gets wet.
'But it didn't have a slippery floor warning on it. It said, "Don't come in — kissing and cuddling going on here".
'So I looked through the smoked glass window on the door and there was a hot tub which, I believe, was full of couples having it off.'
Whitehouse added that the clientele was also a lot younger than the average countryside B&B.
'We went down the next morning — and you know how in rural hotels at breakfast there's always old couples? Not one. Just me and him.
'The two of us came down to breakfast and waved to them all, "Good morning! What are you up to today? Group sex? Right-o! No, that's very kind, but we're going pike fishing! Better put the old thermals on!".
A second series of Whitehouse And Mortimer: Gone Fishing will air later this year.
And the book is available here.
Published: 27 Jun 2019
What do you think?