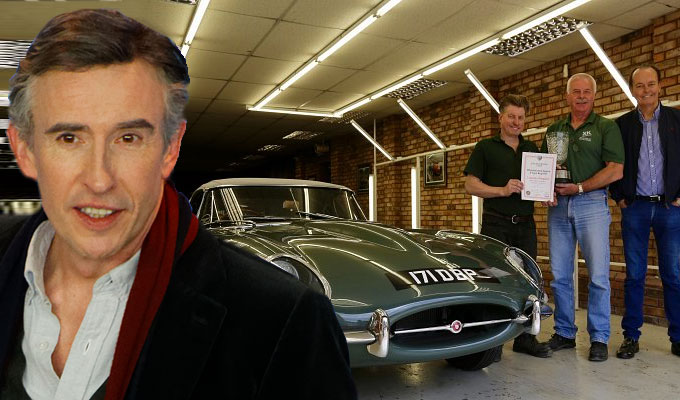 Cashback! Coogan's classic car scoops an award
Steve Coogan's rare E-type Jaguar has won an award after being painstakingly restored.
His 1961 model was only the 62nd right-hand drive roadsters of its type built. It was a pre-production model released to dealers on July 14, 1961.
He brought the car in December 2016, when he was joined by motoring journalist Quentin Willson – although how much he paid for it has not been revealed.
And now it has won a cup at the International Jaguar Driver's Club after being restored by experts at XK Engineering in Coventry,
The company's Dave Woods said: 'Steve Coogan is passionate about 171 DBP [as his car is known] and knows how historically important it is.
'He gave us carte blanche to restore it back to its exact 1961 colours and specification. Being a knowledgeable classic car collector he has enormously high standards and I'm proud that we delivered.
'But we're doubly delighted since the restoration was overseen by classic car expert Quentin Willson who knows a thing or two about E-types.'
Coogan added: 'Quentin, Dave and the team at XK have turned 850062 into one of the best and most authentic '61 E-types in the world. I couldn't be more delighted with the detail and workmanship.'
And Willson said: 'This was a labour of absolute love bringing this rare outside lock E-type back to perfect period spec. One of only 500 cars made with the rare outside bonnet locking mechanism and flat floors so revered by collectors, it's an honour to have helped save 171 DBP for posterity.
'I thought that I was a classic car obsessive but Steve is much, much, worse. XK Engineering have been a joy to work with and amazingly patient with the sometimes insane demands from two crazy old car fanatics.'
Coogan says he is now entering his car into the Jaguar Drivers' Club Champion of Champions concours at the Classic Motor Show in the NEC in November.
While it is not known how much Coogan paid for his car, an even more historic example – the first E-type ever to publicly be unveiled which is described as 'the world's most important Jaguar' – was put on the market for £825,000
Published: 19 Jun 2019
Recent Punching Up
What do you think?