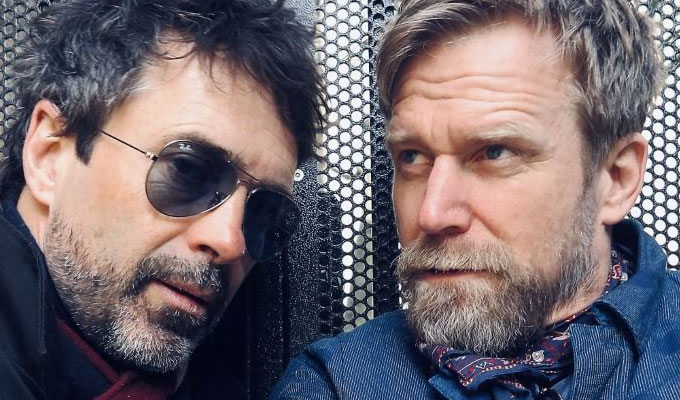 'We are AGAINST fascism, OK?'
Phil Nichol and Tony Law have had a video banned from YouTube because it had the word 'fascists' in the title.
Their video, Hello Fascists, was designed to promote their shows at the Edinburgh Fringe, entitled Virtue Chamber Echo Bravo – which appears to be a gentle ribbing of virtue-signalling.
But when they tried to upload it last night, the company's algorithms refused to accept the video in what the pair called 'an act of horrific and cowardly censorship'.
In response, Law sent a letter to 'apparent fascist Marc Zuckerbergers' – even though Mark Zuckerberg runs Facebook, not Google-owned YouTube.
The letter was sent 'from the desk of Ms. Urna Semper' in New York – 'urna semper' being a Latin phrase that often appears in dummy placeholder text.
It read:
'Dear Marc Zuckersbergers
'You son of a bitch. Your YouTube already banned us. Which is bullshit. Oh I'm sorry do I offend you? Unless being moral is offensive I don't think so.
'Listen up matey. We have fascist in the title because we are AGAINST FASCISM ok? Like the Antifas, okay?
'Some people will tell you saying you are anti fascist should go without saying. They'll say nearly every person on earth hates fascism what with history and all. They are full of shit. They just don't see fascism where I do. Emotionally.
'We hate it the fascism and we are directing you to not ban us right now.
'If you don't the we guys and millions like us will embarrass you by saying stuff like "I notice you love fascism. How do you love Hitler all of a sudden. Aren't you Hebrew?" Want to be aligned with fascism. Your product doesn't look so tasty now does it. Something like that. Put us back on and beware angering us again.
'Thank you for your time reading this dossier.'
The missive was apparently so threatening that YouTube relented before even receiving it, and the video has now been accepted on YouTube.
Published: 13 Jun 2019
Recent Punching Up
What do you think?