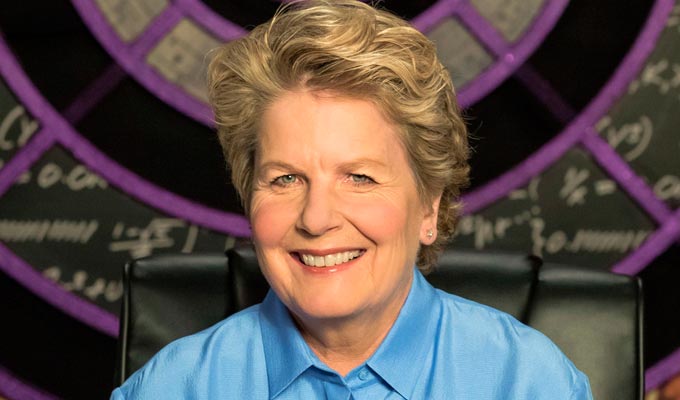 'Even the basics of making you feel comfortable as a woman on stage were not there'
Sandi Toksvig has told Australia's first female Prime Minister about the misogyny and sexual harassment women face on the comedy circuit.
The Bake-Off host is the first guest on Gillard's new podcast series, A Podcast Of One's Own, in which the former premier intents to expose inequality.
Toksvig said she experienced sexism at a very young age, saying: 'At school I led a strike when I was six because I thought the boys had been allowed out to play in the rain and the girls hadn't.'
And she recalls how her the difference in her parents' roles made an early impression: 'I remember watching my father going off to work and watching what my mother did, and thinking, 'There she is in the house – that looks really rubbish; I don't want to do what she's doing.'
She said she encountered more routine sexism when she entered the London comedy circuit in the 1980s
Toksvig said: 'The Comedy Store, which was the first major comedy club in London, they didn't have a loo for the comedians, there was just a sink in the corner of the dressing room and all the boys used to relieve themselves in the sink.
'But it had never occurred to them that a woman might turn up and need to be relieved… I was expected to go through the crowd and queue with the public.
'Even the basics of making you feel comfortable as a young woman on stage were not there.'
She describes the sexist jeers and crude remarks from audiences, as well as male colleagues, and the sexual harassment her peers had to put up with or see their careers fail:
'I witnessed enough young women whose careers were either going to be promoted or not promoted because they would or would not put up with certain behaviours,' she said. 'We lost a lot of great early talent.'
Toksvig acknowledges that progress has been made since then, but questions whether the #MeToo campaign has had enough impact in a world where consternation at sexual harassment is often met with 'Can't you take a joke?'
The QI hosts also says the long-running issue of women's representation on panel shows, was because those in power held female comics back from the spotlight. 'Nobody even tried to hide it,' she said. 'They just weren't having it that a woman could do this kind of show.'
Toksvig's next project is to take on Wikipedia, with support from co-founder Jimmy Wales, to rectify the gender imbalance in its content. Ten times more entries are about men and their achievements that women.
She said that as she goes on tour: 'I want to get every single member of the audience to commit to adopting one woman and making sure her entry on Wikipedia is correct or to inputting someone new.'
Julia Gillard's new podcast series A Podcast Of One's Own is available here – and on all main podcast platforms.
Published: 12 Jun 2019
What do you think?