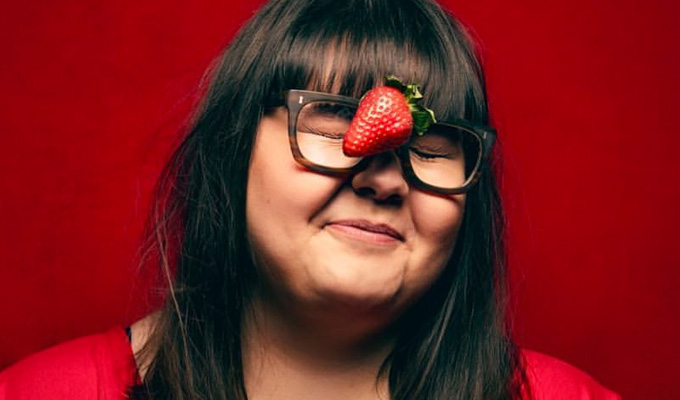 The hidden message in Sofie Hagen's new book
Sofie Hagen actively encourages listeners of her podcasts to take direct action against fascism, and body fascism in particular.
Her new book, Happy Fat takes up the same cause – but she has revealed how she had to rein back the militancy, at her publisher's insistence
Nonetheless, she managed to smuggle a hidden message past the suits.
Speaking on the Secret Dinosaur Cult podcast she co-hosts with fellow comic Jodie Mitchell, Hagen reveals that in her first draft, 'there was a lot of me saying "punch Nazis", there was a lot of that. I was very angry and there was a lot of "fuck the system, go out there, fuck it all up, punch a Nazi!"'
Yet her editor at Fourth Estate 'was not a fan of the rhetoric' and advised her to take a different approach.
'I don't know whether she thought it would be a legal issue,' Hagen wondered. 'Basically, she made me delete all the "punch the Nazis". So we had a back and forth, we weren't really agreeing on the tone of the book.'
However, 'spoiler alert: at the end of the book I actually wrote a poem'. Which is obviously very beautiful and inspirational, and my editor loved it, really, really loved it. She was like: "this is all the book should be".
'But if you look at all the first letters …'
That, she reveals 'made it through an editor, a copy editor, a legal team'.
Hagen's revelation comes as composer Isobel Waller-Bridge revealed how she snuck rude words into the divine-sounding music in the second series of her sister's comedy Fleabag.
In the scenes involving Andrew Scott's 'hot priest', the musician used filthy Greek and Latin words in the lyrics of the choral music.
The show's director, Harry Bradbeer, told IndieWire: 'All the words are basically Latin or Greek words for Private Parts of the body, repeated at various intervals. They're basically saying, "Cock, cunt, arse." So there's a little detail that not everybody knows.'
Isobel admitted: 'We sort of snuck them in but not throughout the whole score. They're really buried so they're really layered deliberately under, so you really have to pick them out.'
Published: 30 May 2019
What do you think?