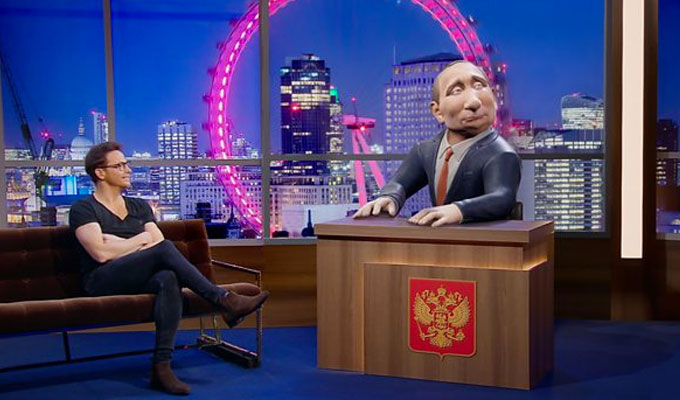 We're disPutin whether this is an original idea...
When the BBC yesterday announced that it was to launch a talk show with a virtual reality Vladimir Putin, it seemed like an original idea.
But when everyone in the world is a creator, finding something entirely unique can be almost impossible.
For just last month a company called GZero Media launched its own talk show with a phoney version of the Russian President, called Putin It Out There.
Their version used a puppet rather than software – although the video has been graded to give it a sort of holographic virtuality look – and was a phone-in, whereas the BBC version, Tonight With Vladimir Putin, features celebrity guests.
But the similarities didn't go unnoticed, with GZero posting on its website: 'By the way, the President of Russia already has the greatest talk show of all time. Ours.'
Here's a teaser for the BBC's version:
🥋🇷🇺 Britain's newest chat show host - please welcome Vladimir Putin to @BBCTwo pilot #TonightWithVladimirPutin: https://t.co/DVY8uVOWSM pic.twitter.com/ifgw0s0kWB

— BBC Press Office (@bbcpress) May 21, 2019
And here's GZero's, which has just 1,600 viewers on YouTube at the time of writing.
Published: 23 May 2019
What do you think?