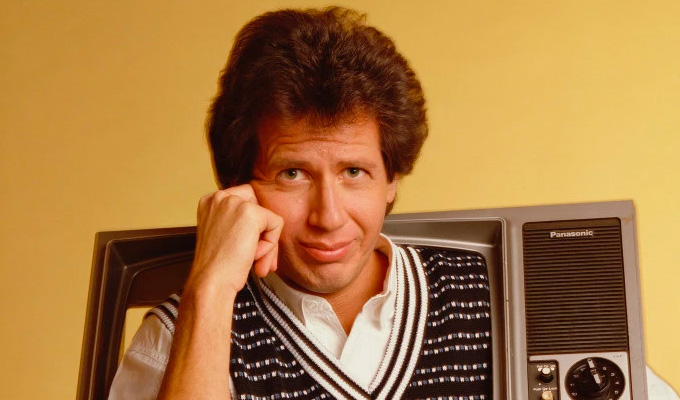 Is this the best Garry Shandling story ever?
A writer on It's Garry Shandling Show has shared a magnificent memory of the star to mark the third anniversary of his death.
Ed Solomon, who also wrote Men In Black and the Blll & Ted movies, recalled a priceless incident in a series of tweets.
He said he had never told the story before as he believed it would 'violate some weird vow I made to myself 25 years ago'.
But here it is in his own words.
'Several years after we worked together on his 1st TV show, I was outside at a cafe on Beverly Blvd( (I was working on the outline of Men in Black, so it'd have to be be early 93). And I happened to be wearing a crew gift t-shirt that said: "It's Garry Shandling's T-shirt."
'I was there hours. At one point I got the sense I should look up. And what I saw was Garry, crossing the street kitty corner from me (while remaining on the opposite sidewalk). But here's the thing: he was wearing a t-shirt. And that t-shirt said: "It's Ed Solomon's T-shirt."
'I have no idea how long he'd been there - or if he'd passed several times (my head had been buried). And he never looked at me. Not once. He just kept walking.. turned a corner... and disappeared. And that was it. No 10-minute later smiling drive by... nothing.
'After work, I went home and called. But when he picked up, I didn't say anything. I just asked if he wanted to shoot hoops on the weekend. And when we played - nothing was said. Nor when we ate. So I said nothing. Nor did he. Ever.
'Some called Garry "The Comedian's Comedian." (I think one article even called him "The Comedian's Comedian's Comedian.") But man.. It's not just his going THAT FAR to build - then play - a visual gag in real space - for an audience of ONE - that gets me. It's something more.
'Garry knew that by NOT showing up for the laugh, he could access something far deeper, far sweeter, far more rare and far more exquisite: that moment NOT when the audience explodes... but the moment BEFORE that moment. The moment of the ANTICIPATION of that moment.
'And he knew that by NOT going there.. by not coming in for the kill - or the credit - he could - truly - make that feeling last a lot longer. Maybe even forever.
'I think about Garry a lot. My life would - literally - not have been the same without him. Rest in.. well, just rest.'
Published: 29 Mar 2019
Recent Punching Up
What do you think?