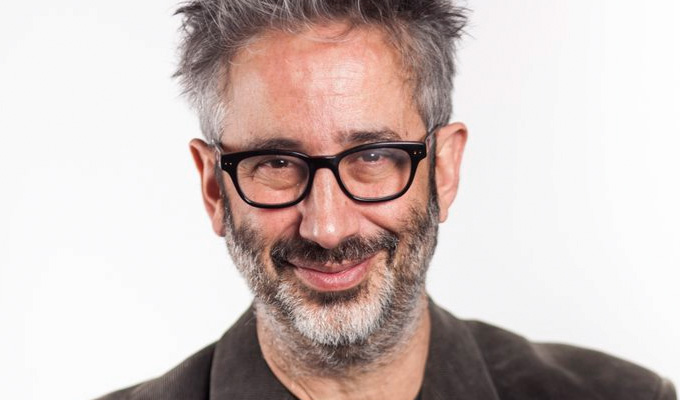 Claws out!
David Baddiel has accused US sitcom Will & Grace of stealing a cat joke by his ex-flatmate Frank Skinner.
Baddiel's podcast about David Bowie, Stalking Time For The Moon Boys, has become a great source for salacious gossip. A recent episode's conversation about a young Bowie's sexual exploits was picked up by the tabloids. And the latest instalment contains comedy writer John O'Farrell's recollection of an uncomfortable afternoon with Prime Minister Tony Blair at Chequers in the company of Jimmy Savile.
However, Baddiel's 'comedy writer's complaint' concerns his former cat, which Skinner called Chairman Meow.
Baddiel had shared the gag with Laura Kightlinger, a friend of his wife Morwenna Banks, and a writer for Will & Grace. Then in 2001, the sitcom mentioned a feline with that very name in an episode entitled Loose Lips Sink Relationships, which Kightlinger worked on as a consulting producer.
'So I always felt a bit pissed off, when we had the funniest cat name ever,' Baddiel protested.
Regardless of its origins, the wordplay is obviously catnip to writers. Authors Andrew Davies, Valerie Jordan and Bryce Courtenay have all used it, or the variation Chairman Miaow, for characters in their books.
It has also been deployed by Daily Mail columnist Allison Pearson for her pet and parliamentary sketch writer Quentin Letts to describe Labour MP Ann Taylor, in addition to being the title of an Australian short film out last year.
A rare pic of me with the much-missed (but living on in comedy via her name) Chairman Meow. pic.twitter.com/NwjhqbPPd1

— David Baddiel (@Baddiel) 17 November 2017
• Frank Skinner has today announced a ten-night run at London's Leicester Square Theatre from Monday June 3.
Published: 26 Feb 2019
What do you think?