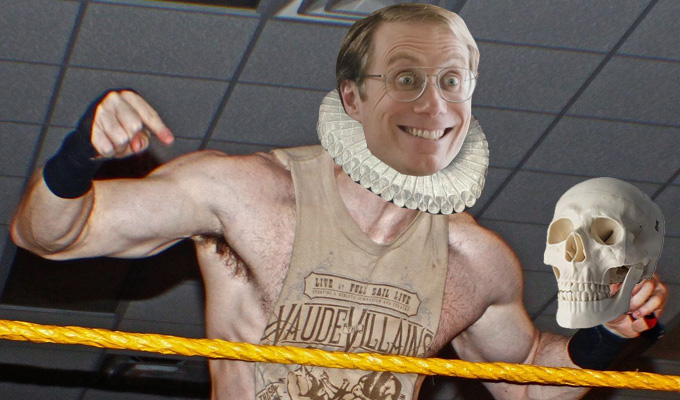 Stephen Merchant reveals his wrestling persona
Stephen Merchant has come up with a wrestling persona for himself, just in case the WWE gives him the call.
The comic was written and directed the new film Fighting with My Family with Dwayne 'The Rock' Johnson, which tells the story of Paige, plucked from her British wresting family to join the WWE.
And appearing on James Corden's US chat show to promote it last night, Merchant described his in-ring alter-ego.
After Johnson told him that to create a wrestling persona 'you take a part of yourself and dial it up to 100', Merchant gave some thought to how he could present himself.
'I'm a British writer so I would come out dressed as Shakespeare,' he said. 'White ruff, shirtless – obviously – I'd have the quill, the parchment. I'd say things like, "To beat you or not to beat you, that is the question."
'I would be called the Merchant of Menace and my finishing move – get ready for this – I would pull out a skull and the fans would be, "It's Yorick!" and I would be, "Alas poor Yorick, he's the last guy I wrestled!" My finishing move instead of Hamlet would be Slamlet.'
Maybe something like our crude mock-up, above?…
Here's the extract from the interview on The Late Late Show:
Published: 21 Feb 2019
What do you think?