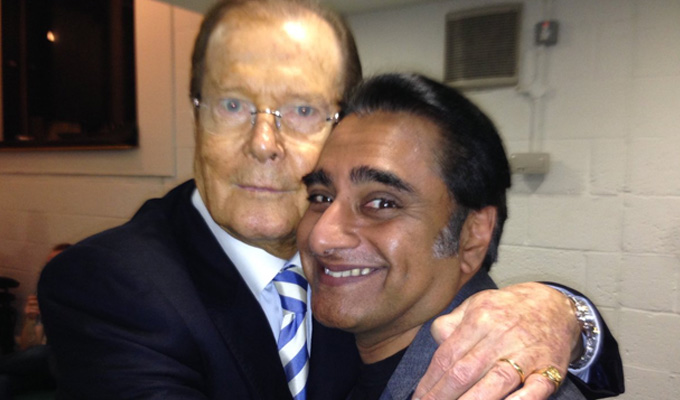 The dry wit of Roger Moore
A career in comedy means you can get to meet your heroes, as Sanjeev Bhaskar has been recalling.
The comic struck up a friendship with Roger Moore, after being introduced by Stephen Fry, and was often on the receiving end of the late actor's dry sense of humour.
'He was really, really funny, very supportive guy,' the Kumars star told Richard Herring on his Leicester Square Theatre podcast released this week.
Bhaskar explained that he'd once enthused to the former 007 about how Live And Let Die was the first James Bond film he'd seen at the cinema when he was nine or ten years old. It was the days of continuous programming and Bhaskar remembered sticking around to watch the entire film again.
Confessing his devotion decades later, he gushed to the star: 'Roger, I watched the whole thing twice!'
Moore paused, then deadpanned: 'You owe me £4.50.'
Another time, the actor had gifted Bhaskar a signed copy of one of his memoirs. The comedian reciprocated in kind with his 2009 book, India With Sanjeev Bhaskar.
He scribbled 'To Humara Roger Moore' – 'humara' meaning 'our' in Hindi, reflecting the affection Bhaskar's family had held for Moor.
'And I said, "maybe I should explain what 'humara' means",' Bhaskar recalled
To which Moore replied: 'May I hazard a guess?
'I'm guessing… shithead.'
Bhaskar has previously spoken of how his friendship with the Bond star started in the same mocking tone that it continued.
He once recalled: 'When I first met Roger Moore, I shook hands with him and said, "I have to come clean, it's watching you as The Saint when I was a kid that made me want to act"
'And he nodded and he said, "Well, of course, you thought, 'If he can get a job, anybody can'". How great to get that from him.'
Published: 26 Jan 2019
What do you think?