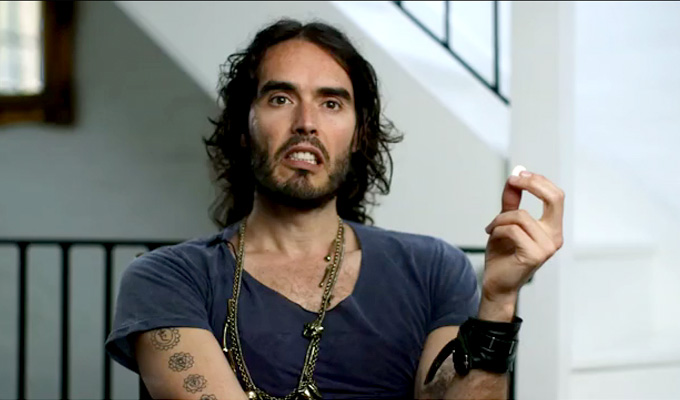 'Just a big old-fashioned sexist'
Russell Brand has often waxed lyrical about how much fatherhood has meant to him,
But the comic has attracted some ridicule and criticism after admitting that he has a hands-off approach the relentless day-to-day practicalities of parenting.
Some accused Brand of sexism, after he admitted he found bringing up his two daughters Mabel, two, and Peggy, six months, hard graft, so left much of it to his wife Laura Gallacher.
'I'm very, very focused on the mystical connotations of Mabel's beauty and grace. Not so good on the nappies and making sure that they eat food,' he told the Sunday Times.
And he admitted that he has never looked after the children alone for 24 hours – claiming Laura 'respects and cares for their safety too much' to leave him in sole charge.
'When I looked after Mabel on her own, she dropped two social classes in an hour,' he joked.
'In no time at all we're in a coffee shop, she's just got a nappy on and she's covered in stuff because I'm not willing to fight any of the battles.
'Laura's able to sustain and maintain domesticity in a way that's astonishing. I didn't have much experience of how to organise domesticity. I do whatever I'm told.'
He added that he was 'dedicated' to child-rearing but in practice was 'still surprised when it's like "Oh my God this is f***ing really hard and it's so exhausting".'
Writer Hadley Freeman was one of those to highlight the apparent hypocrisy in Brand's comments.
She tweeted: 'Russell Brand pitching himself as some New Age, all new, mature and sensitive dad - and then saying he's too sensitive to do any actual parenting is the most Russell Brand thing I've ever read in my life.'
Public affairs manager Rhiannon Clapperton said of Brand's stance: 'What a load of cobblers. Imagine if mothers (and Russell Brand's partner) refused to change nappies, remember snacks for their toddlers & do BASIC PARENTING because of being "romantic & reflective". Turns out Russell Brand is just a big old-fashioned sexist.'
However, Russell had some supporters online, with fans saying he was merely admitting that his wife was a better parent than him.
In the interview Brand insisted he took an active part in bringing up the children, adding: 'I would hate for you to leave with the impression I'm sort of sat watching television, peering over the armchair at what's going on. I'm not.
'Yesterday, like, I drove Mabel to the playschool.
'But I'm sensitive and awake and aware, so I have to dial a lot of shit down to go through normal life.'
Published: 21 Jan 2019
What do you think?