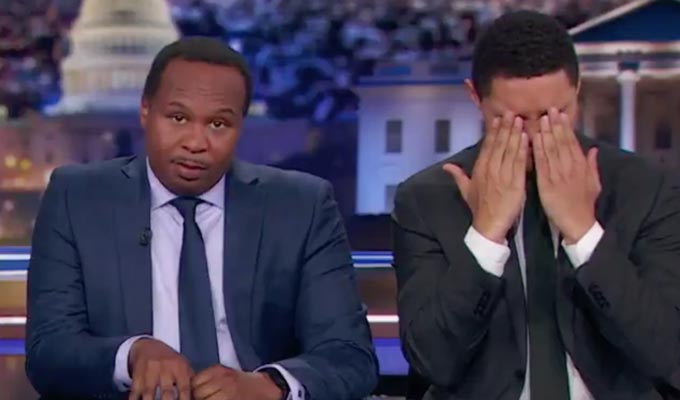 Trevor Noah silenced!
Trevor Noah had to mime his way through The Daily Show last night, after losing his voice.
The comic's situation is so bad that he has also cancelled the rest of his stand-up gigs for the year, so he can be on top form for his tour next year.
Noah sat behind his desk on the Comedy Central show, but his script was read by regular correspondent Roy Wood Jr – leaving the host to react via his own version of sign language.
With Trevor on vocal rest, @roywoodjr steps in to report that lame duck Republicans are still on their voter suppression game… a month after the midterm elections. pic.twitter.com/MduyhriVbS

— The Daily Show (@TheDailyShow) December 5, 2018
Noah may have lost his voice after cheering Beyonce and Jay Z's performance during the Global Citizen Festival which he hosted in Johannesburg on Sunday Night.
Writing on Twitter, the comic said: 'As you'll know, when you watch the Daily Show tonight I don't have a voice right now,
'I thought that my vocal cords were healed but according to the doctor, flying 36 hours and hosting a giant concert in South Africa didn't help me.
'So now if I want to get better I have to take it seriously so that I can perform at 100% on my new tour next year.
'I hate cancelling shows but I also hate the idea of losing my voice forever so I'm postponing all this year's stand up shows and working hard on rehabbing the voice.'
Published: 5 Dec 2018
What do you think?