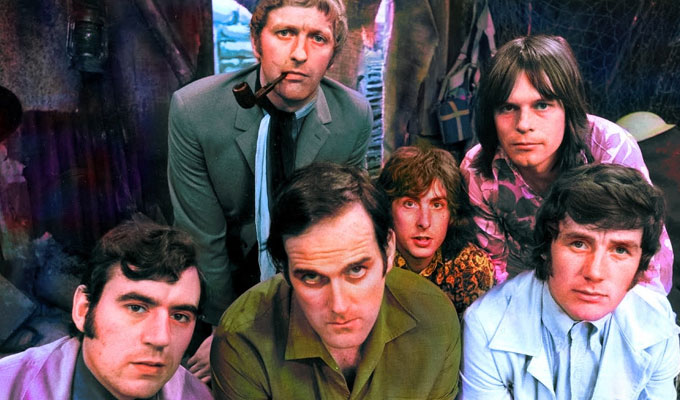 Pythons' dirty secret exposed!
A Monty Python book that was once deemed too sexually explicit for Oxford students is going on display as part of a display of material censored by the university's library.
Published in 1973, The Brand New Monty Python Bok featured a fake cover for Tits 'n Bums, which purported to be a 'weekly look at church architecture' with articles such as Are you still a verger?
And the cover image was of three intertwined naked women, with censor's tape masking their mouths, navel and wedding rings – but nothing else.
The image was hidden by a white dustjacket containing just the Python book's misspelled title and some realistic looking smudged fingerprints.
On its release the book was added to the shelves Oxford's Bodleian Library, but with strictly limited access for students.
In the Victorian age, the Bodleian created a restricted library within the library for books deemed too sexually explicit or immoral. These books were given the shelfmark Φ - the Greek letter phi. Students had to submit a college tutor's letter of support in order to read Phi materials.
The Phi shelfmark remained in use until recently, with around 3,000 items ranging from scientific works and scholarly studies of ancient cultures to novels that were once controversial but are now recognised as important works of literature.
Highlights of Phi collection, including the Python book, are now going on display as part of an exhibition charting how perceptions of sexuality and appropriateness have changed over time.
Librarian Richard Ovenden said: 'This display puts the spotlight on the fascinating but little-known Phi collection. It shows the varied and sometimes surprising functions that libraries perform in order to preserve culturally important works for the nation and reveals how librarians have navigated the tension between making materials available for scholarly research while also protecting readers and books.'
Other items on display include:
An illustrated volume of The Love Books of Ovid, which was restricted due to its illustrations while Ovid's unillustrated erotic poems were freely available on the Libraries' open shelves;
Oscar Wilde's The Picture of Dorian Gray, which was restricted presumably because of its homoerotic subtext and Wilde's notoriety;
A signed first edition of Lady Chatterley's Lover which was smuggled into Britain in a diplomatic bag in order to evade British censorship laws;
Press clippings related to the restriction of certain medical texts, which were subsequently reclassified and placed on open shelves in the 1930s;
Sex manuals such as the best-seller, The Joy of Sex;
The Pop-Up Kama Sutra;
Books about phallic symbolism;
Madonna's 1992 book, Sex
Professor Jennifer Ingleheart from the University of Durham is curating the exhibition. She said: 'Many people would never guess that a major academic university library like the Bodleian holds one of the world's most extensive collections of works deemed "obscene'"
The exhibition is free at the Bodleian's Weston Library and runs from next Thursday until January 13.
Published: 7 Nov 2018
What do you think?