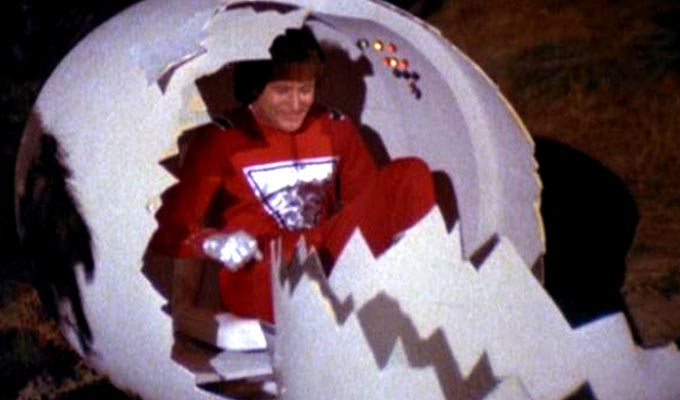 Want to get your hands on Mork's egg?
Want to own Robin Williams's egg spaceship from Mork and Mindy?
Well, now's your chance as the prop is going under the hammer in a memorabilia auction next month.
But you you may need deep pockets as California-based Prop Store estimates it will fetch $20,000 to $30,000.
Also among the 400 props going under the hammer on December 1 are props from the 1960s Batman TV series including Adam Wests' bat shield (estimated $400,000 to $600,000) and Riddler's (Frank Gorshin) question-mark-patterned green jacket ensemble (estimated $100,000 to $150,000); the Grecian toga worn William Shatner wore when Captain Kirk kissed Lieutenant Uhura in one of the very first interracial kisses on television on Star Trek (estimated at $60,000 to $80,000); and Walter White's (Bryan Cranston) 5lb bag of 'blue sky' meth from Breaking Bad (estimated $2,000 to $3,000)"
The sale items come from memorabilia collector James Comisar, who said: 'I have spent 30 years trying to create a museum that honours television's rich history, and until that can be realised, I want to share with collectors-turned-caretakers, who have always celebrated these shows and valued their materials.
'These days, few would argue TV's enduring nature or its emotional hold, and my hope is the objects can live on as long as the shows are streaming through our lives.'
The auction begins at 7pm UK time on December 1. Fans will be able to bid via telephone or online via www.propstore.com
Published: 1 Nov 2018
What do you think?