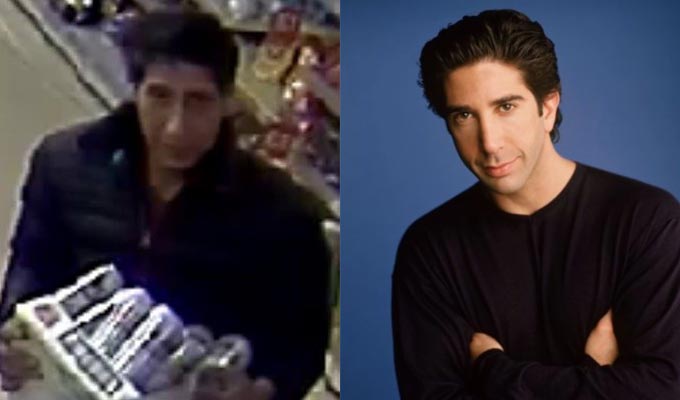 David Schwimmer has the perfect response to the police hunt for his lookalike
Friends star David Schwimmer has joined in the jokes about his lookalike stealing from a Blackpool restaurant.
Local police were overwhelmed with wisecracks from internet wags after posting a CCTV image of a wanted man that bore an uncanny resemblance to Schwimmer and his sitcom character Ross Geller.
After the original post attracted thousands of smartass comments making reference to the 1990s comedy, Schwimmer released a video as an alibi, saying: 'Officers, I swear it wasn't me – as you can see, I was in New York.
But the footage expertly recreates the original CCTV image.
Officers, I swear it wasn't me.
As you can see, I was in New York.
To the hardworking Blackpool Police, good luck with the investigation.#itwasntme pic.twitter.com/EDFF9dZoYR

— schwim (@DavidSchwimmer) October 24, 2018
Schwimmer wished detectives hunting his lookalike 'double good luck with the investigation.'
Police will be hoping the publicity will help them catch the real thief, who struck at Mr Basrai's all-you-can-eat restaurant on September 20.
The suspect is wanted for the alleged theft of a jacket, wallet and mobile from the restaurant. Police released the CCTV image of the man they want to quiz buying beer from a shop.
After being inundated with jokes, Blackpool officers said: 'Thank you to everyone for your speedy responses. We have investigated this matter thoroughly and have confirmed that David Schwimmer was in America on this date. We're so sorry it has to be this way.'
Published: 24 Oct 2018
What do you think?