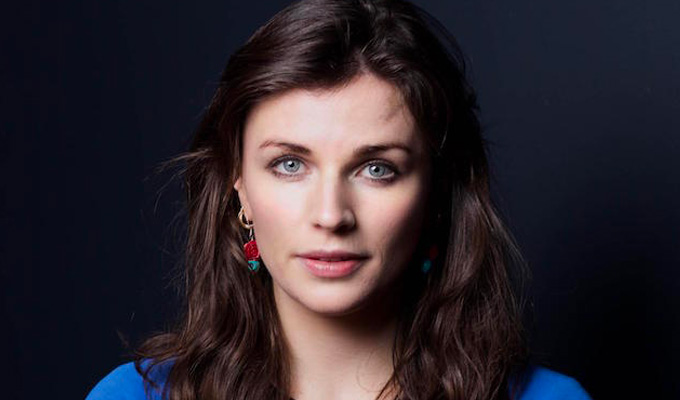 Unearthed! Aisling Bea's old McDonald's ad
Aisling Bea's television career is taking off, with her self-penned sitcom Happy AF arriving on Channel 4 next year, packed between roles in the UK, US and Ireland.
However, footage has just re-surfaced of one of her earliest screen appearances, a 2004 advert for McDonald's that she shot while a student at Trinity College in Dublin... and which she now has decidedly mixed feelings about.
A fan called Errol Stafford found the footage while transferring old VHS tapes to DVD, and posted it on Twitter.
An ad-break from 2004 & what looks like the wonderful Aisling Bea,(who hasn't aged) in a McDonalds advert,shifting some lad just to get a Euro to buy some spicy wedges.What Irishman carries coins in his 'arse' pocket (as we say in Cavan) anyway?!? Am I correct @WeeMissBea ? pic.twitter.com/ZNByy6v1FJ

— Errol Stafford (@estaff77) October 22, 2018
The 15-second spot shows the future comedian lifting a coin from a guy's pocket while snogging him to spend on the burger chain's budget menu.
Bea responded: 'Baha! One of my first paid acting jobs-selling spicy wedges for McDs. It put me through university. The message was clear. I still stand by it: if you want wedges gal, don't get a job, just put out & steal from the people you love. Also my "character" had the HORN for wedges.'
Speaking to rapper Scroobius Pip on his Distraction Pieces podcast last year, she revealed that her earnings from the advert had also helped her move to England.
Yet she had naively reckoned the campaign 'wasn't going to get seen by anyone, I was delighted.
'Cut to a week later, I'm on the back of every bus in Ireland. And there's only one bus stop in my town and it was there, with me looking at a euro like it was the best thing I'd ever seen, holding a guy's arse.
'Someone wrote on it "Aisling's a slag" or something. Which was a fair enough review for the time to be fair. And my mother went that night with a J cloth and some Cif and scrubbed it off.
'No matter how many plays I did up in Dublin with the dramatic theatre company, no matter how many Shakespearean monologues I learned, or I went to Edinburgh with three successful sketch group shows… still every time I went home they'd go "she's lovin' it!" I couldn't get away from it.'
Published: 23 Oct 2018
What do you think?