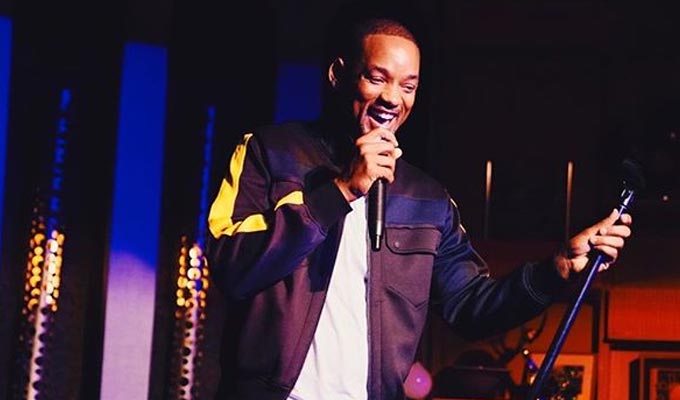 Now look who's doing stand-up...
Not many new comedians get to open for Dave Chappelle the first time they ever perform stand-up.
But then not many new comedians save the earth from multiple alien invasions, either.
Hollywood star Will Smith turned his hand to stand-up for the first time this weekend, fulfilling an long-held ambition as his 50th birthday approaches.
Indeed he told the audience at the Peppermint Club in Los Angeles that the set was being recorded for a TV show called The Bucket List – with bungee jumping from a helicopter over the Grand Canyon next on the agenda.
And he admitted after his debut set: 'I'm hooked.'
According to trade paper Variety, Smith joked that he had 'lost control of my house,' noting that son Jaden had become a musician but wouldn't let his dad featured on his tracks. 'He looked at me like I was the second-best rapper in the house,' the Fresh Prince star quipped.
Smith's performance was reportedly praised by Chappelle who declared: 'There's a new sheriff in town!.'
Published: 23 Sep 2018
What do you think?