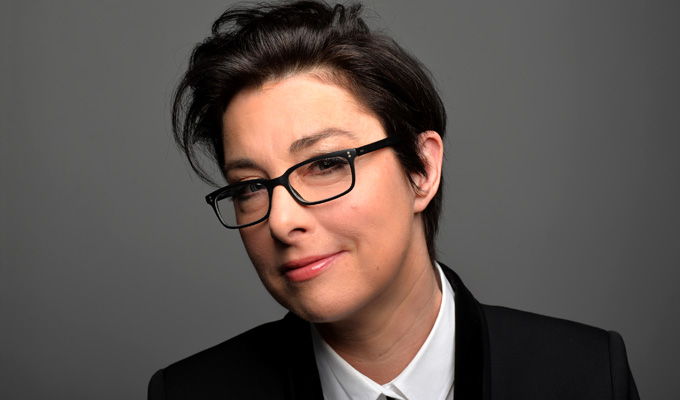 Sue Perkins: My Spinal Tap moments
It's was a memorable a 50th birthday present that turned the comedy up to 11.
Sue Perkins has revealed how she surprised double-act partner Mel Giedroyc on her special day by recreating Spinal Tap's Stonehenge in Mel's back garden.
The epic rock performance was recreated with her friends and family, including a priceless moment when 'all her mates came out as druids', and another when a pal used a fishing rod to drop a tiny version of the ancient monument over the fence, in perfect tribute to the classic film.
Perkins told the story at a recording of the Rule of Three podcast in London last night, where she discussed her love of Rob Reiner's 1984 classic with comedy writers Jason Hazeley and Joel Morris. It was one of the favourite films she and Mel shared while on the road, because of its accurate portrayal of the travails of touring.
And it prompted Perkins to recall some of their most awful moments, including their first Edinburgh Fringe, where they had been given a slot at 10.05am – and hadn't written a complete show by the time they got there.
'It didn't have an ending,' the one-time Great British Bake Off host said. 'So we shone a torch on a croissant.
'We would then go on to spend seven years shining a light on other people's croissants.'
No one turned up for the first performance in Edinburgh and the second attracted just one punter 'and she didn't take her rucksack off so she sat at a 45-degree angle,' the comic recalled. 'In the middle of the show, she got out a small map, which she then unfolded into a big ap. We spent half the show performing to the back of a street map of Edinburgh.'
And she recalled their biggest on-stage death, in Stockton-on-Tees, where unbeknownst to them they were booked to appear at a meeting of domestic abuse survivors, and took to the stage immediately after a sombre film showing horrific images, to a jaunty tune and wearing garish outfits.
'We died a million times,' she revealed of their comedy career, but said Spinal Tap taught them that every bad experience would be an ancedote later.
In another story, she recalled Mel being caught short backstage at Edinburgh just before their show was due to start, so she peed in a bucket.
Later in the run, the pair went to watch the one-woman play that was in the room after them – and were shocked to see the star recreating a Catholic blessing by dipping a paintbrush in the bucket and splashing 'holy water' over the entire audience.
During the podcast – to be released at a later date – the panel discussed how the movie endured because of the child-like innocence of its central characters, the film-makers obvious love for the genre and avoiding of sex-and-drugs cliches, because the band were competent if desperate, and because it was filmed like a real documentary, with the story only emerging in the nine-month edit after hundreds of hours of improvisation were filmed.
The movie is also about two best friends being driven apart by a woman, and Perkins confessed.'I had a Jeanine moment when Mel got married. I thought, "How dare you…"'
The event was part of the London Podcast Festival, which runs at Kings Place in Kings Cross this weekend and next.
Published: 8 Sep 2018
What do you think?