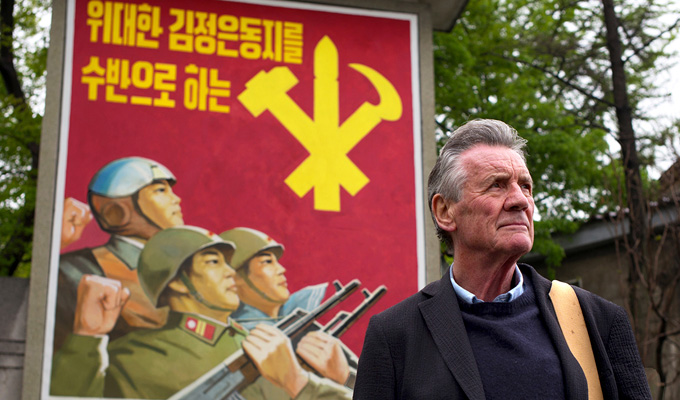 How Michael Palin smuggled a bit of Monty Python into North Korea
The authoritarian, insular Pyongyang regime is infamous for blocking all outside media from its nation's tightly controlled borders.
But the director of the forthcoming travelogue Michael Palin In North Korea did slip one snippet of decadent imperialistic Western culture behind the 'kimchi curtain'. Monty Python's fish-slapping dance.
Palin revealed that the show's director, Neil Ferguson, showed the classic clip to one of the government-appointed minders who accompanied the crew wherever they went while they were waiting at an high-spec, but rarely used, airport.
'We were stuck in this airport which was absolutely brilliant, modern and ready to go,' the broadcaster told an audience at London's Bafta HQ last night. But they have one flight a day and that was delayed by two hours.
'To pass the time Neil had brought along some footage of Monty Python and showed Su Yang [one of his guides] the fish-slapping dance.
'Her only comment at the end was, "Did you use a live fish?"'
Palin turned 75 during the 13 days he spent in the secretive nation, being granted access soon after dictator Kim Jong-Un shook hands with South Korean President Moon Jae-In, marking the first thawing of relationship in decades.
And the media blackout meant no one knew who the former Python was.
'I wasn't recognised,' he said. 'They knew I was a great British star of something but they didn't know of what.. or even what a "great star" meant.
'Basically to them, I was a very old bloke and actually the Korean people have great reverence for age. Su Yang was delightful, every time I got out of the van she would tale my arm and say "Are you feeling tired?" It's 9.15am in the morning! We have nine hours of filming ahead. The director never asked me if I was feeling tired.'
But he said he preferred to go where his fame didn't precede him, explaining: 'It's much easy as then I can observe rather than being observed.'
During his stay, Palin travelled more than 1,300 miles, from the capital where he witnessed May Day celebrations to the peaks of the sacred Mount Paektu.
He told the Bafta audience: 'It wasn't what I expected; all I expected was conditioned by the idea that this was a dark place, a grim place, lack of freedom and when we were going there, I felt this would be reflected in the look of the place and how they people behaved towards me and it was going to be an interesting but threatening experience – and that just didn't happen,'
The two-part series, Michael Palin in North Korea launches on Thursday September 20 at 9pm on Channel 5. Here's a trailer:
Published: 7 Sep 2018
Recent Punching Up
What do you think?