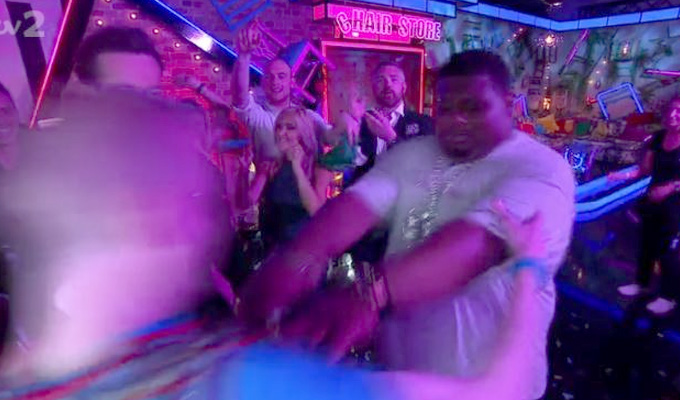 Narstie by nature
When Robert White tried to celebrate his Britain's Got Talent semi-final win last night, it didn't quite end up as planned.
During the Britain's Got More Talent after-show, the comic was dancing along to singer Anne-Marie, when he thought he'd try his moves with fellow guest Big Narstie.
But the rapper rejected the advances of 'the only gay, Aspergic, quarter-Welsh comic on the British comedy circuit' with a hefty shove.
The ferocity of the reaction, which sent White flying backwards, seemed to shock host Stephen Mulhern, who was standing right next to them.
And social media was quick to condemn Big Narstie, with some branding him a 'bully'.
But White later said he harboured 'no bad feelings' towards the grime star, who has just landed his own Channel 4 comedy entertainment show with comic Mo Gilligan as his co-host.
'Big Narstie hi-fived, shook and then made up. No bad feelings from me. To me the visual joke was obvious; the tiny guy dancing with the big guy, but not everyone thinks in comedy, so I think you should give the benefit of the doubt,' the comedian posted.
He later added: 'I know what it's like to be misunderstood'
Narstie himself posted: '"Hello high to da world sorry if I came across aggressively last night but I didn't like my personal space being invaded in that manor (sic) just followed natural reaction.'
@bignarstie just pushed Robert White at the end just before the show cut off and it didn't look didn't look very friendly! #BGMT #BGTSemiFinals pic.twitter.com/3PK8HAhKVR

— Param (@Param_ksx) May 30, 2018
Published: 31 May 2018
Recent Punching Up
What do you think?