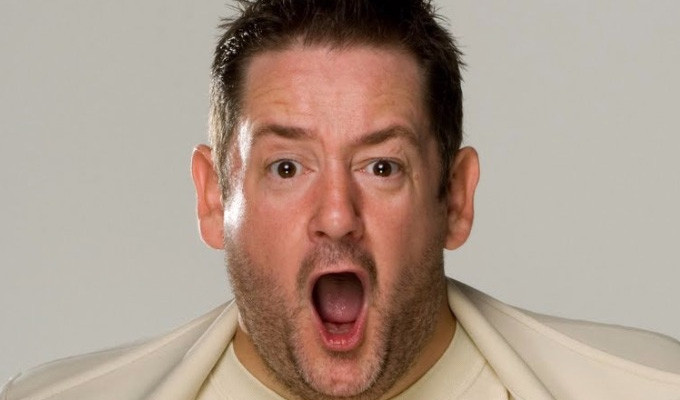 When Johnny Vegas was paralysed by fear
Johnny Vegas has revealed he was so terrified filming in a hot air balloon that he was unable to speak.
The comic filmed a scene of his BBC One comedy Home From Home in a balloon with Emilia Fox.
But he confesses on tonight's Graham Norton show: 'As we went up I got lower and lower into the corner of the basket.
'I couldn't speak and started making terrible grunting noises. Then I became terrified that Emilia was going to fall over the side. It was terrifying.'
It's not the only terrible professional experience Vegas recounts on the talk show – revealing that his famous 2011 photoshoot when he posed naked to mimic Demi Moore's Vanity Fair cover was 'terrible'.
'I was close to tears because I am actually very shy,' he said. 'Nobody told me I would be naked. As I was putting my trousers back on I looked up and there was a woman in the office opposite typing and just staring at me. I just mouthed "Sorry" at her.
'That was the first picture my mother-in-law ever saw of me!'
Also on the show, Episodes star Stephen Mangan jokes that he is a lazy parent, using audio books that he had narrated to get his children to sleep.
'I've recorded a lot of audio books, he confessed, 'so we had a lot of fairy tales on CD and I am ashamed to say that with our first child, I would press "play" and back out of the room.
'I wonder if he thought it odd that every story started with, "Read by Stephen Mangan."'
• The Graham Norton Show is BBC One at 10.35pm tonight.
Published: 4 May 2018
Recent Punching Up
What do you think?