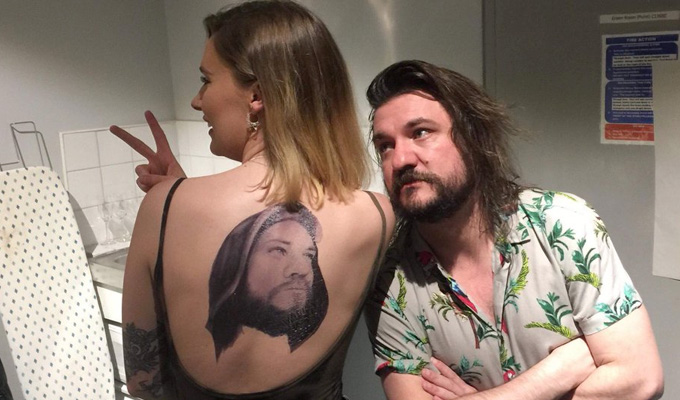 That's ink-redible
It might not be the best way of showing your appreciation for a comedian who's life has been dogged by a stalker.
But a hardcore fan of stand-up Mat Reed decided to prove her devotion by getting a tattoo of his face across her back – then revealing it to him at a gig.
The mystery woman unveiled her tribute on Saturday night during Reed's regular Junk Box show in which he invites audience members to bring along random items, which he then improvises around.
Among the items was an email from a girl saying that she didn't want to freak him out, but had something to show him. So she was was invited on to the stage at the ARC in Stockton-on-Tees – where she removed her jacket to reveal the massive tattoo
Reed says: 'I didn't know what was going on. I was obviously shocked and despite, having been through horrendous stalking before, remarkably calm.
'I complimented her on the tattoo which looked remarkably well done. It was massively surreal and I was also a little flattered that anyone would think highly enough of me to get that done.
'She came backstage for a pic but disappeared quickly and I didn't get her name. I didn't really get that close a look.
'People have asked me if it's real or not I refuse to believe its real as the prospect of it being real is absolutely terrifying. All in all, it was certainly an unexpected twist to my evening '
Promoter Peter Vincent added: 'We're not sure if it was real or not, but it certainly looked real.'
The incident bears an uncanny resemblance to a classic episode of I'm Alan Partridge, in which Steve Coogan's alter-ego is held hostage by an insane fan who reveals a tattoo of the presenter on his torso.
And Reed spoke about his incidents with a stalker in his 2015 Edinburgh Fringe show. He spent four years being tormented by a woman with severe psychological problems.
The tattoo was based on a drawing of Reed the artist Katie Ogilvie, created several years ago. It had been posted on the comic's Instagram feed, but he said it was 'waaaaaay back so she's obviously been having a good old look at my page.'
Published: 23 Apr 2018
What do you think?