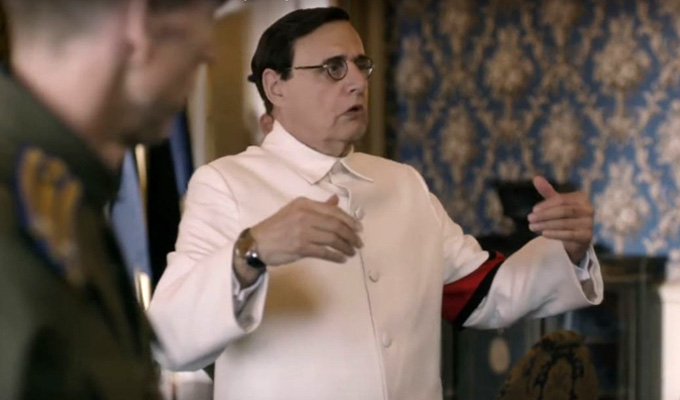 Would Stalin approve?
You could say it's Stalinesque – but with no small irony, Jeffrey Tambor has been airbrushed from the poster for The Death of Stalin.
The actor has one of the main roles in Armando Iannucci's satire, playing Georgy Malenkov – the man who briefly succeeded the dictator following his death in 1953.
But almost as soon as the news broke that Tambor had been axed from Amazon Prime's Transparent over sexual assault claims, he was 'vanished' from the movie posters.
The new promotional image replaces his face with that of costar Andrea Riseborough, who plays Stalin's daughter Svetlana. It's a much smaller role, but just about the only substantial female part in the film.
Here's the old one:
And here's the new:
Although it was released in October in the UK, Death Of Stalin is not due to hit US cinema screens until March 9, following its screening at Sundance last month.
But Tambor's former assistant Van Barnes and his co-star Trace Lysette, both transgender actors, have accused him of sexual misconduct on set.
But Tambor, who previously starred on The Larry Sanders Show and Arrested Development, reacted furiously to being axed. Strenuously denying the allegations, he blamed the ' toxic politicised atmosphere' for his dismissal,
During Stalin's political purges, government censors attempted to erase figures from history figures who did not find favour with the Soviet regime, altering photographs and destroying film of those deemed 'enemies of the state'.
Michael Palin, who played Vyacheslav Molotov, has also been removed from the original movie poster, to be replaced by Simon Russell Beale, whose role as Lavrentiy Beria was more pivotal to the plot and is known to US audiences because of his role in Penny Dreadful.
The Death Of Stalin is up for both Outstanding British Film and Best Adapted Screenplay at Sunday night's Bafta awards.
Published: 16 Feb 2018
What do you think?