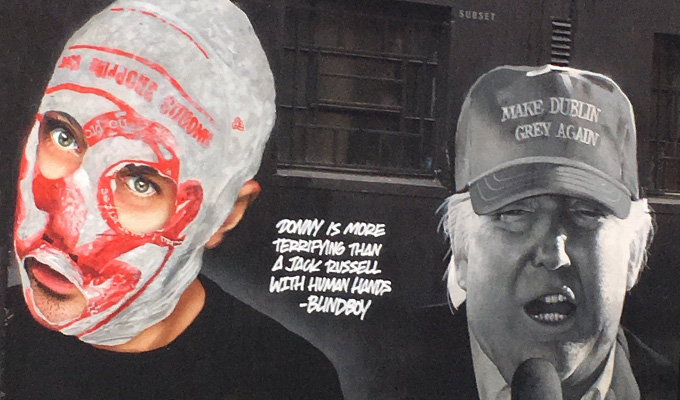 Off-the-wall humour?
With his face tightly wrapped in a plastic bag, Blindboy Boatclub of comedy rap crew Rubberbandits has always made for a striking image.
And now it stares out from a Dublin wall, after a street art collective Subset unveiled a mural of the comedianon the wall of Andrew's Lane Theatre.
After the street art went up, Mr Boatclub revealed the venue was the scene of their first proper gig in Dublin a decade ago. 'I smoked a pre gig fag against this spot on the wall,' he posted on Twitter.
His graffitied likeness shares the wall with an image of Donald Trump, which Subset sprayed in in November, showing the President in his baseball hat but with the slogan: 'Make Dublin grey again.'
And the new Blindboy artwork carries his quote about Trump: 'Donny is more terrifying than a Jack Russell with human hands.'
He later asked his followers to 'grab a daycent photo' of the mural as he was 'pure scared' Dublin council would paint over it.
The full mural by @SubsetDublin 😂 thanks to @weareleboom for the pic pic.twitter.com/eJRV9ygeA1

— Rubber Bandits (@Rubberbandits) January 27, 2018
Those fears may be justified, as a three-storey Stormzy mural overlooking in the Smithfield area of the city, also by Subset, was painted over last month because it had no planning permission.
It is now a dull grey wall – but an ironic plaque was added identifying it a 'standout piece in Dublin City Council's continuing series on the transience and meaninglessness of art. The drab, lifeless scene drains the colour from its surroundings, giving a stark warning about the threat of bureaucracy to imagination.'
Published: 29 Jan 2018
Recent Punching Up
What do you think?