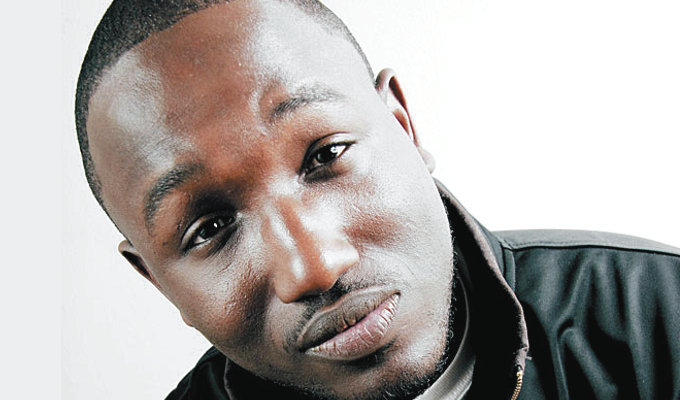 'Hey, what's up, YouTube?'
Put a camera on a comedian and they'll start cracking jokes – even if they are being arrested.
Miami police have released footage of Hannibal Buress's late-night run-in with the law last month, in which he initially laughed at his predicament.
As soon as the officer turned on his body camera, the stand-up said: 'Hey, what's up?! It's me, Hannibal Buress.
'This cop is stupid as fuck.... Hey, what's up, YouTube?'
Officer Luis Verne is heard telling him: 'Get out here before...'
The comic is then handcuffed while repeatedly demanding to know what he is under arrest for.
A group of passers-by then enters the situation, and Buress tells them: 'I'm under arrest now for calling him a bitch-ass nigga.'
The young men then film the arrest – making sure they are in the foreground of their videos, selfie-style.
'You can't be getting after Hannibal like that!' one of the bystanders said.
The comic starts losing his sense of humour as the cop explains that he had repeatedly been asked to move on. Buress keeps asking, with increasing volume, what the charges are, and asking for his rights to be read.
Eventually the cop says he was being detained for trespassing and 'disorderly insults'. In fact, he was later charged for being intoxicated.
Buress then tells the cop: 'You know you're goofy as fuck.'
The arrest happened in a district of Miami hosting the Art Basel festival, which attracted big names, including Princesses Eugenie and Beatrice, Owen Wilson and Ellie Goulding.
In his report about the incident, officer Verne said in his report that Buress had asked him to call him an Uber after being asked to move on, which apparently happened before the body cam started filming.
The new video had been obtained by the Miami Herald. Footage posted at the time by local singer-songwriter Mitchell Wiggs showed Buress, 34, handcuffed and arguing with officers from another angle.
The comedian's next court date is on Feb. 5.
Published: 17 Jan 2018
What do you think?