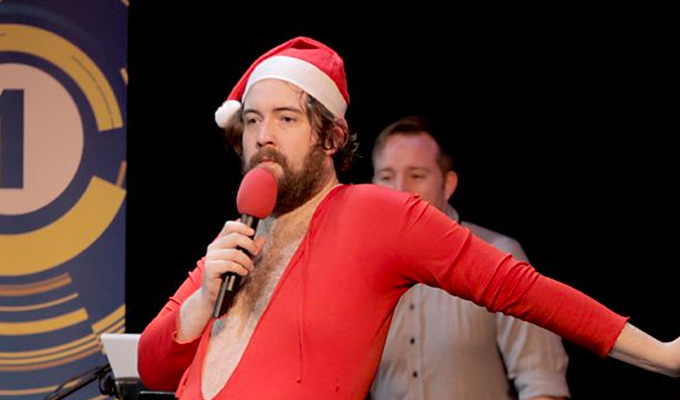 Who's on Nick Helm's naughty list?
He's making a list, he's checking it twice…
Not Santa, but Nick Helm, who has come up with a very strict naughty list of people who aren't welcome at his gig.
The comic is hosting his third Xmas Fuck-Fest in aid of Shelter at the Pleasance in Islington, North London, on Tuesday and he's posted a strict list of those who shouldn't come on the venue's website.
Banned from the show are:
• People expecting slickness.
• People that think that just by being talked to at a comedy gig that they are somehow getting picked on.
• People in the audience that like to make it all about them.
• Office parties.
• Hecklers.
• People that get drunk and talk to their boyfriends really loudly through the whole night, even raising their voices so they can be heard by their partner over the song that is being performed live maybe six feet right in front of them and then proceed to deny doing it when they are called out on it by literally every single act that gets up and performs that night.
• Rude people.
• People incapable of dealing with the concept of a stage persona and who take everything they see in life at face value.
• Fascists.
• Baz.
• Journalists that hide in the dark and say "Oh he's just doing what he always does".
• Large groups of actors.
• People that have only ever experienced stand up from TV shows such as Live at the Apollo or McIntyre's Road Show. Come to another show at some other point, but really there won't be time for you to catch up with what everyone else has been enjoying for year's so just stay home for this one. You won't understand why you haven't heard of any of the acts or why they're not always talking about things that you can directly relate to so it will be less embarrassing for you if you stay away and hide your ignorance.
• Cats.
• People that aren't expecting a Fuck-Fest.
• People with unrealistic preconceptions of what a comedy show can provide for them.
• People expecting a reenactment of all their favourite moments from BBC Three's Uncle. Nick is a multi-award-winning stand-up comedian and not the same person as the fictional person he plays in the hit series Uncle. He is just an excellent actor and maybe his diversity and range should be celebrated rather than met with confused disapproval.
• Likewise for people that are coming because of 8 Out of 10 Cats/8 Out of 10 Cats Does Countdown. This is not a panel show/beloved word/number-based game show. It will be different from that.
• Nick IS however, prepared to listen to your food recommendations.
• If you absolutely have to get blind drunk then under no circumstances try to engage with Nick whilst he is cleaning up all the shit off the stage at the end in a conversation about what real comedy is and what a disappointment the show you just saw was. If you can't stand up straight or see clearly anymore, your opinion is not valid.
• Bellends in general.
• Everyone else is welcome.
He concludes: 'I guess lower your expectations, pull your head out of your arse and stop taking yourself and your fucking opinions so seriously.'
If you meet those strict criteria, tickets are available here
Published: 17 Dec 2017
Recent Punching Up
What do you think?