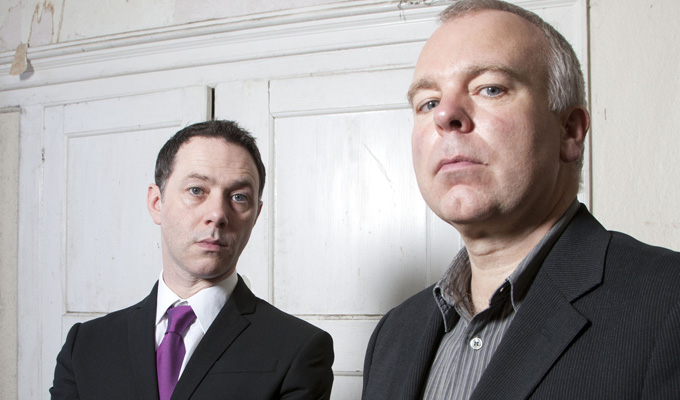 Another day, another grisly murder scene
Ever wondered how Reece Shearsmith and Steve Pemberton come up with so many inventive and grisly deaths for their characters? Apparently, it's plenty of practice.
Pemberton has disclosed that the pair play a game, whereby whoever arrives first at their office, 'has to stage a death… so that when the other comes in, they find a corpse.
'It's just something we do every single day' he told Adam Buxton on his podcast. 'One day I took off my belt, I put it round my neck, got the laptop and opened it on my lap, I had my trousers open. Because I could hear these footsteps approach, so I lay back with my eyes closed ...'
Regrettably, it wasn't Shearsmith but the pair's landlady 'nipping in to get some laundry [who] had the shock of her life. And I had to say, "we play this game where one of us has to…" Too late! I can never fully explain,' he sighed.
However, these roleplays might not have been so far-fetched. He revealed that the League of Gentlemen have received death threats, and speculated that they may have come from an obsessive fan Mark Gatiss once insulted.
'Remember when we got these weird Wicker Man dolls sent to us?' Shearsmith added. 'I mean, I collect these weird things, I didn't mind. I've still got mine.'
But 'it was a bit creepy. Because it was sort of like an effigy, they [had] our faces on!'
Published: 17 Oct 2017
Recent Punching Up
What do you think?