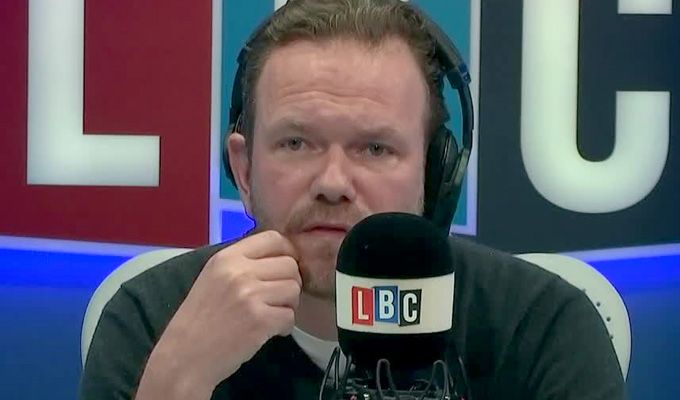 The night a comedian 'humiliated' LBC's James O'Brien
LBC radio presenter James O'Brien has recalled the most humiliating night of his life – when he was picked on by comic Mickey Hutton at the Comedy Store.
The incident was more than 25 years ago, but the comeback the broadcaster *should* have defended himself with at the time clearly still plays on O'Brien's mind.
He was still a student when he went to the club, then in London's Leicester Square, in 1991, and he recalls going to the toilet and leaving his jacket over his chair, close to the stage.
'It was a jacket that only a student would wear,' he said on his show today. 'It may have involved suede and tassels. I was making may way back to the loo and the atmosphere seemed to have changed slightly and I realised he was wearing my jacket.
'He's doing an impression of a student… he started taking the mickey out of every aspect of my existence - I was on a first date. It was just brutal.
'The laughter that you're exposed to when you're the victim of the comic on the stage, it's double cos not only is he being funny, they [the rest of the audience], are so relieved it's not them…'
O'Brien recalls that he had a shoulder-length pony-tail at the time, which Hutton mocked for being inadequate – since the stand-up himself had one that went right down his back. 'I hate pony-tails like that. You've got to have one like this else don't have one at all,' Hutton told him.
'I'm just sitting there melting in humiliation,' O Brien recalls now. 'I realise within about five minutes of him moving on and leaving me alone that he could never have grown his pony-tail down to his backside if it had never been the length mine was.
'It was just so unfair! No I won't move on! It was 25 years ago in front of 500 I've never been more humiliated in my life.
'He had a pony-tail that to by all the laws of physics and folicles must have been at one point the length mine was.'
Hear him recall the incident here.
Published: 13 Sep 2017
What do you think?