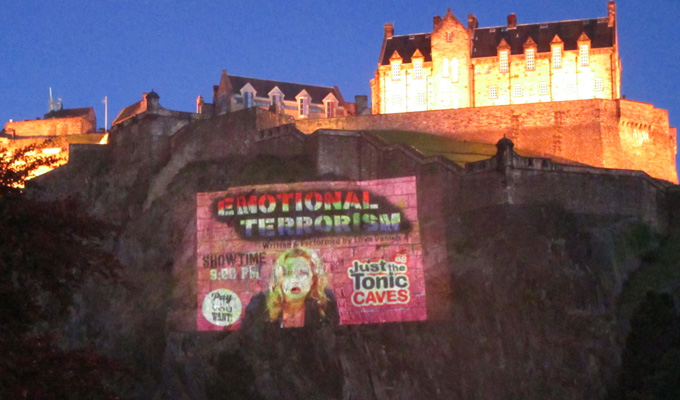 Project management...
American comedian Ellyn Daniels has projected a video of herself mimicking a man masturbating aggressively on to some of Edinburgh's historic landmarks.
She 'did a Gail Porter' and projected her image on to monuments including Castle Rock, the National Archives and McEwan Hall to drum up business for her Fringe show, Emotional Terrorism.
Porter hit the headlines when FHM magazine projected her nude photograph on to the Houses of Parliament in 1999.
Daniels claimed her stunt had an environmental motive, after realising the sheer number of flyers given out at the Fringe… although she has still had leaflets printed up herself.
She said: 'After seeing so many flyers gone to waste on the streets of Edinburgh and in piles on our own apartment floor, we started brainstorming another way to advertise our show that would be more environmentally friendly. Also, carrying boxes of flyers around was exhausting, because I don't have much upper body strength.
'We thought projecting a trailer of our show onto buildings would be not only less wasteful but also more exciting and more engaging. In one section of the trailer I'm miming a man masturbating aggressively, which is always better in a live action format.'
The stunt is called 'projection bombing' and was used by No campaigners to show their image on Castle Rock during the independence referendum. Big Ben is frequently targeted by brands and activists, too – prompting criticism against the desecration of landmarks by virtual graffiti.
Published: 19 Aug 2017
Recent Punching Up
What do you think?