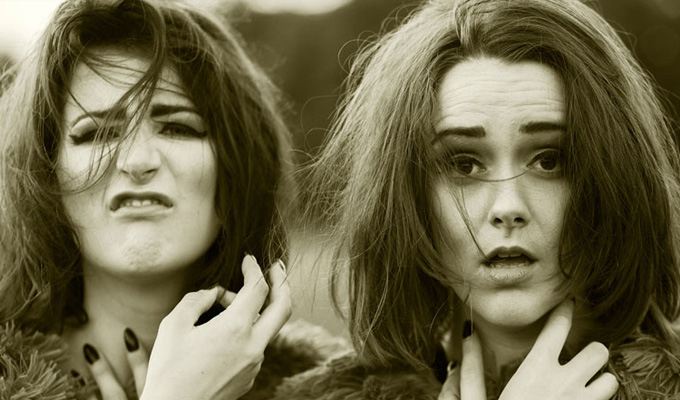 When rumour has it all wrong...
The Edinburgh Fringe is where every comedian gets to project the impression that they are a star – massive posters everywhere and press interest in their work.
Even so, comedy duo Stiff and Kitsch – aka Sally O'Leary and Rhiannon Neads – were rather surprised to be treated like queens when they were in a Japanese restaurant last year, with a stack of flyers for their show.
'The staff were being extra nice to us, really friendly, and seemed really interested in the show,' Rhiannon told us. 'One of them came over to ask if it was Sally on the flyer, to which she said yes. They seemed very excited by this, as were we - who knew we had Stiff and Kitsch fan girls!?
'She went to report back to her fellow staff and we could see them talking about us. Next thing another one comes up cautiously and asks her if she would mind signing one. Which she happily obliged.
'"How lovely," thinks Sally "They must really have heard good things about the show. We'll be coming back here." We seem to be causing quite a stir, the first waitress is giddy with excitement. Next thing, the manager comes over, brandishing free desserts apologising profusely that, "We're so sorry, we didn't know who you were".
'It is at this point that a gaggle of waiting staff approach tentatively, saying they have Saturday off and will "definitely be coming to see the show".'
Then the penny dropped. Their show, which is back at the Fringe this year, is called Adele is Younger Than Us and the flyer featured the pair re-enacting the megastar's Hello music video in a park in West London.
And it seemed the spoof was accurate, as the staff actually believed that Adele was performing in a 40-seat room in C Venues.
Sadly, Stiff and Kitsch don't think their new fans showed up to the performance. Perhaps they realised their mistake when they saw that 'Adele' had signed the flyer as 'Sally O'Leary' …
Published: 11 Aug 2017
Recent Punching Up
What do you think?