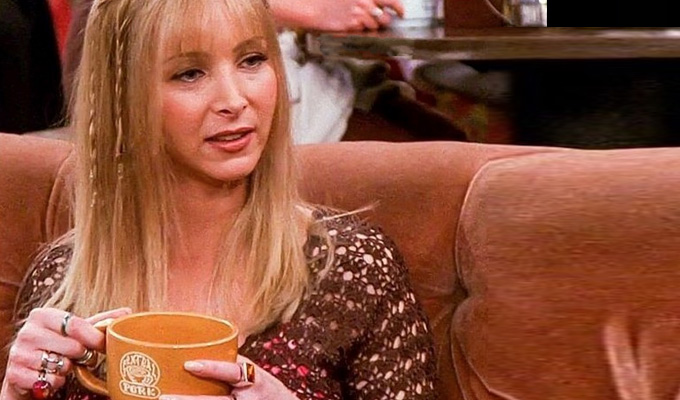 At last! Now we know how much coffee the Friends drank
Another piece has been added to the Jigsaw of human knowledge.
We now know exactly how many cups of coffee Ross, Rachel, Joey, Chandler, Monica and Phoebe quaffed during all ten seasons of Friends.
London-based writer Kit Lovelace tracked every beverage consumed over the shows' 236 episodes and found that a total of 1,154 cups of coffee were drunk across the show's decade-long run.
Lisa Kudrow's Phoebe drank the most – 227 – while Jennifer Aniston's Rachel consumed the fewest at 138. 'It makes sense that Rachel didn't rack up so many cups as she was a waitress for so long,' Lovelace surmises.
His research was inspired by a 2013 blog entry on the Scientific American website which pointed out the dangers of the caffeine ingested at Central Perk.
The writer told Huffington Post that he wasn't 'a huge die-hard fan of the series,' but just wanted to fill 'what seemed like a significant gap in our shared pop culture knowledge."
"So over one particularly slow week, I tried to figure it out," he said.
Digging through old stuff, just found my results from the time I went through all 236 episodes of Friends to see how much coffee they drank. pic.twitter.com/4Kg7QO0mA6

— Kit Lovelace (@kitlovelace) June 27, 2017
He also worked out how each character's coffee consumption changed over time:
Moreover, I then went ahead and broke it down season by season to see how their habits developed and changed over time... pic.twitter.com/IoJ1lDNnpv

— Kit Lovelace (@kitlovelace) June 27, 2017
And how much each spent, assuming $1.50 per cup – which is surely an underestimate – plus 20 per cent tip. In total, that came to just over $2,000, not bad for six characters over the course of a decade.
It's not unreasonable to assume therefore that a coffee is ~$1.50. That being so, including tips, I also worked out how much they spent... pic.twitter.com/2G9xSbqv7c

— Kit Lovelace (@kitlovelace) June 27, 2017
Published: 29 Jun 2017
What do you think?