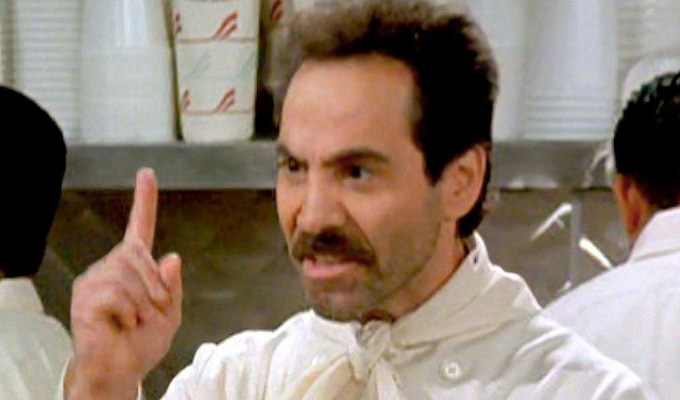 No solvency for you!
The Soup Nazi made famous by Seinfeld has surrendered.
Soupman has filed for bankruptcy in the States. The company licenses the name and recipes of Al Yeganeh, the real-life soup chef who inspired the grumpy sitcom character.
It has filed for a Chapter 11 bankruptcy in Delaware – a legal instrument that offers protection from creditors for a limited period to allow it to reorganise.
The company has assets of less than $10 million, and estimated debts that could total $50 million. But Soupman says it has secured a new $2 million credit to keep it trading.
But if it doesn't work out, the company could be telling creditors: 'No cash for you!'
Soupman started in New York in the 1980s, where it earned a reputation for great food but awful customer service, before expanding into franchise across the States and ready-made soup for supermarkets.
Yeganeh reportedly hates the link to the sitcom and banned references to Seinfeld or the Nazi word – although he has exploited it from time to time for marketing.
Published: 14 Jun 2017
Recent Punching Up
What do you think?