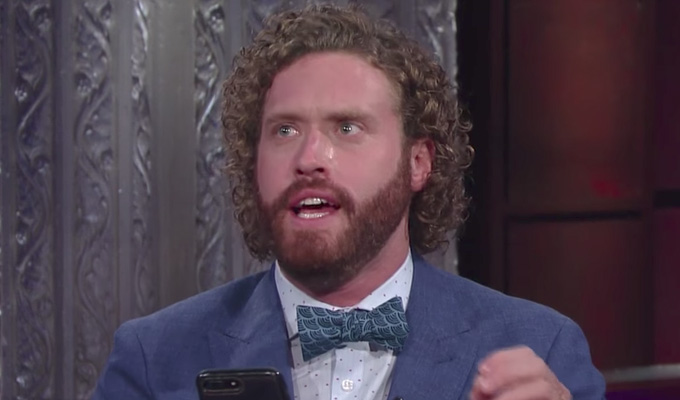 TJ Miller reviews the reviewer
American comic TJ Miller has very publicly mocked a reviewer for taking one of his stand-up routines literally.
The Silicon Valley star appear on The Late Show With Stephen Colbert last night, and took issue with a negative review of his latest HBO special.
Writing in Iowa newspaper Sioux City Journal, reviewer Bruce Miler – no relation – 'absolutely panned' Meticulously Ridiculous.
But in one sentence, the critic said the comic's comment hat he spent $73,000 (£57,500) last year on carnival games alone, offered 'insight into his tendencies'.
Appearing on CBS last night, the stand-up pointed out: ' It would be physically impossible to ever in any way, shape or form be possible to spend $73,000 playing carnival games. The idea that you believe it!'
He explained: 'That is an absurdist piece of material; it's not true but this man in Sioux City, Iowa, believes that I spent seventy-three… carnival games cost between $1 and $5, $3 usually.
'So the idea that you would have to play 30,000 games to spend $73,000! What does he think? It's actually why I left Silicon Valley?
'All I do all day is play carnival games. What I do is, Kate and I, we travel with the county fair and… I play morning til night, I've hired a guy who stands next to me with a brass ball over a bucket and when I start to fall asleep he drops the ball in the bucket so I can get back up and start throwing the dart at the balloon, throwing the dart at the balloon…'
Miller surmised: 'I think it's possible may not get the special - and one of those people betrayed his own name. Bruce, if you're out there listening, you fool.'
But as Colbert pointed out, by highlighting the criticism, he was giving it a much wider audiecne
'You know no one would have read this till you read this out loud,' he said. 'You are updrafting a man who hates you right now.'
The Late Show gets about 2.75million viewers; the Sioux City Journal has a circulation of 40,626
Here's the clip:
Published: 13 Jun 2017
Recent Punching Up
What do you think?