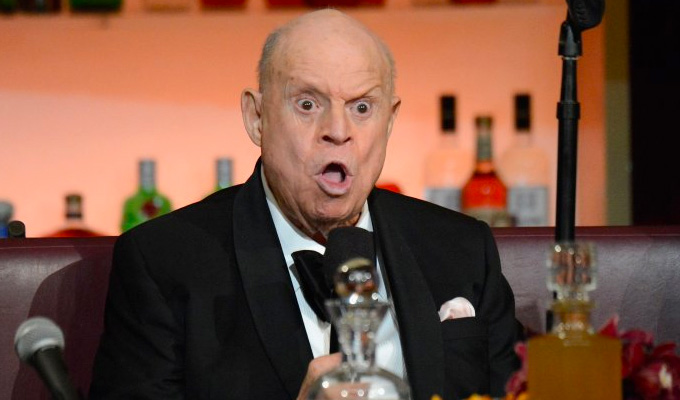 The best Don Rickles stories
The best story about Don Rickles naturally enough revolves around his friendship with Frank Sinatra.
The comic was trying to impress a dinner date at the Sands hotel in Las Vegas, when she spotted the singer – who was headlining there – with his entourage and other celebrities at another table.
'My God, there's Frank Sinatra! Do you know him?' she gushed.
Keen to score, Rickles played up their friendship big time, to his date's incredulity. So he said, 'Wait here, sweetheart,' and went over to Frank's table.
'What do you want, Bullethead?' Sinatra said, using his nickname for Rickles. He told him: 'I'm sitting with this girl, it would definitely make it a notch in my gun if you came over and say hello'.. He said: 'For you, Bullethead, I'll do it.'"
Five minutes later, Sinatra strolled over and said: 'Don, how the hell are you?'
And Rickles looked up and replied, "Not now, Frank. Can't you see I'm with somebody?"
---
Rickles once played a gig in New Jersey when he noticed a this beautiful girl with a man who 'resembled a small gorilla' – and was obviously connected to the Mob.
'Is that your wife?' He asked. the gorrilla nods. 'Geez,' Rickles says. 'She looks like a moose.'
The audience laughs, but in his memoirs Rickles recalled: 'The gorilla stares at me like I stole his banana.'
But that wasn't the end of it. Rickles was backstage after the show when 'Ape Man' and his wife came into the the dressing room. 'Tell me again,' he asks menacingl. 'Does she look like a moose?'
'It's a joke,' Rickles pleads. 'I swear to God, it's a joke.'
He comes back: 'If you really think that's funny. I'm gonna have to straighten you out.'
But Rickles managed to get away, and called one of his Mob-connected friends. The next night the gorilla' comes back to the club and without missing a beat, puts his arm around the comedian and says: 'You're right. She's a moose. You crazy bum, I love ya!'
---
Rickles also punctured Robert De Niro's facade when they were shooting Casino – despite Martin Scorsese warning that the actor was 'a very serious guy'.
But while shooting the very first scene, in which Rickles played the bodyguard of De Niro's character, the comedian stopped shooting to mock the star's mumbling technique.
Speaking to Los Angeles magazine last year he recalled: 'I went, "Hold it! I can't take this any more, I can't. Marty, get somebody that can talk, for Christ's sake. This guy's making $8 billion. I'm making $2 and a coffee." And he started laughing, De Niro.
'In another take he's sitting at the bar with a cigarette, and he's supposed to be thinking. It's about two minutes, and…finally I lean over and say, "Will you say the goddamn lines? It's almost six o'clock, for Christ's sake. I've got to go home." Nobody else would do that with him.'
In another interview Rickles recalled how his insults caused De Niro to 'fall to the floor' laughing, but added: 'Scorsese fell on the floor too, but he's so small we couldn't find him.'
Published: 7 Apr 2017
What do you think?