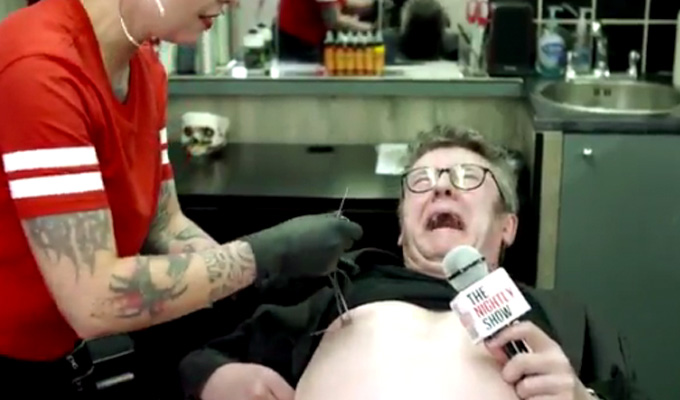 It's Joe Pierce-quale
Joe Pasquale had his nipple pierced on The Nightly Show.
The squeaky voiced comic is acting as a roving reporter during this week's programmes, hosted by pal Bradley Walsh.
And yesterday he went to a piercing salon in London to 'get down with the kids'.
Before the event, he joked about the ITV show's underwhelming ratings, telling Walsh: 'Hopefully this will boost your viewing figures, Bradley.'
Asking the piercer, Magda, if it would hurt, she said: 'Yes.'
Indeed, Pasquale squealed in pain during the process, and claimed 'a little bit of wee came out there'.
The comic later appeared in the studio to show off his new piercing, to which he had attached a photograph of the night's guest Michael Bolton attached. 'It looks like I'm breast feeding Michael Bolton,' he said.
Asked whether the nipple was still tender, her replied: 'Is it sore? I've had a skewer put through my nipple!'
Published: 4 Apr 2017
Recent Punching Up
What do you think?