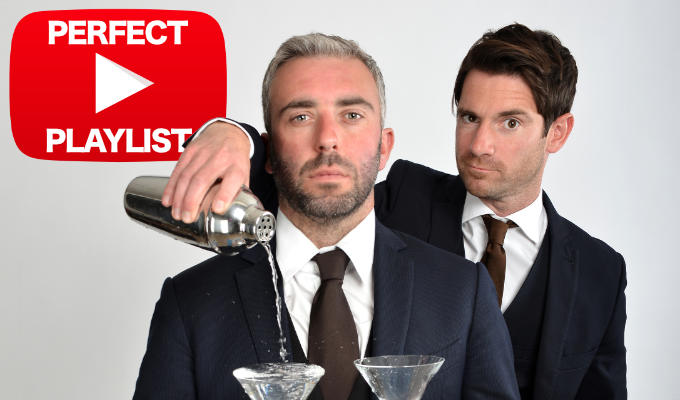 'This show is a launchpad into the history of comedy'
The Thinking Drinkers - aka Ben McFarland and Tom Sandham – are on tour with Fancy Another Round, mixing pub quiz and booze-tasting. Here they share their Perfect Playlist of comedy favourites…
---
Matt Berry
We're currently binging the latest series of What We Do in the Shadows, which is a warm and friendly bit of funny, with moments of Berry brilliance, along with Natasia Demetriou and Kayvan Novak.
Then there's Garth Marenghi's Dark Place, which is still fucking hilarious, it seems inconceivable there's only one series of that. He pops up as Bainbridge in the Mighty Boosh and there's Toast of course, added to which he recorded a voiceover for our new show, which we still can't quite believe.
For this list though, the Snuff Box Fuck You/Boyfriend, which is a little darker, but is supreme bit of sketch comedy.
Alan Partridge Mid-Morning Matters
Steve Coogan is a flippin' ledge and his Partridge creation remains one of the best characters in the history of British comedy - that his first radio show aired in 1992 and the team can still make the shtick fresh is astonishing.
Coogan's commitment to the character is equally phenomenal and no doubt the reason Partidge can make us laugh in any format, whether live, in film, TV, audio or book. We could've lucky dipped something funny from the entire canon, but opted for a Mid-Morning Matters clip, because with Tim Key, and writing from Neil Gibbons, Rob Gibbons and Armando Iannucci, it's great, but also because we're on tour and spend a lot of time being interviewed on regional radio and Coogan's portrayal is on the money.
Comedians In Cars Getting Coffee
This one makes the list because it's impossible to isolate the decades of great American comedy we grew up on. The show format is a launchpad into the history of comedy, provides a touch of nostalgia as well as insights into Jerry Seinfeld and his guests, and is also a useful starting point for some of the comics we weren't so familiar with.
It features some proper legends, from Carl Reiner and Mel Brookes or Eddie Murphy to Tina Fey and Bill Burr. And the format allows the guests to drop bits into conversation in a more relaxed fashion than on a chat show - a prime example is this stone cold gold clip of Norm Macdonald's Cosby bit.
John Kearns
If you haven't seen John Kearns then, please, you need to. He is one of the true greats, a modern-day philosopher in a phoney comedy wig and false teeth.
Don't be hoodwinked by the daft appearance because he's so much more than 'just' a very, very funny fellow. As well as some truly unique observational comedy – it's his whimsical turns of phrase, poetic musings and uplifting melancholy that makes an hour in his presence so memorable. We always leave his shows wanting to be his mate.
Despite winning all the comedy gongs, he's still absurdly underrated. We saw him first in 2011 at our first Edinburgh Fringe and his bit about a Mafia gangster who can't say 'kapiche' made us wet our pants.
The Fast Show
When the Fast Show launched in 1994 we were 18 years old and it was massive - a defining moment in British comedy that really captured the imagination and the language of a nation.
Beyond the memorable catchphrases ('Brilliant!', 'Suits You') and a cast of absurdly funny fckers, and amid the silliness, there were some moments of genuine pathos – deftly delivered by comedians who could also act too.
There are hundreds of clips and characters to choose from but, given our link to drink, we're going with this pub game with Ted & Ralph...
Les Dawson's Monologues
What a very funny, talented man. Mothers-in-law may not agree but his was a kind-hearted kind of comedy – daft one-liners underpinned by incredible writing, a mastery of language and whimsical monologues that lasted for ten minutes – all wrapped up in a brilliantly deadpan delivery.
And, of course, the purposely cack-handed piano playing. Looking at his rubbery, gurning face, it's impossible not to laugh.
• The Thinking Drinkers Pub Quiz: Fancy Another Round is currently touring until April 2024. Tour dates
Thanks for reading. If you find Chortle's coverage of the comedy scene useful or interesting, please consider supporting us with a monthly or one-off ko-fi donation.
Any money you contribute will directly fund more reviews, interviews and features – the sort of in-depth coverage that is increasingly difficult to fund from ever-squeezed advertising income, but which we think the UK's vibrant comedy scene deserves.
Published: 6 Nov 2023